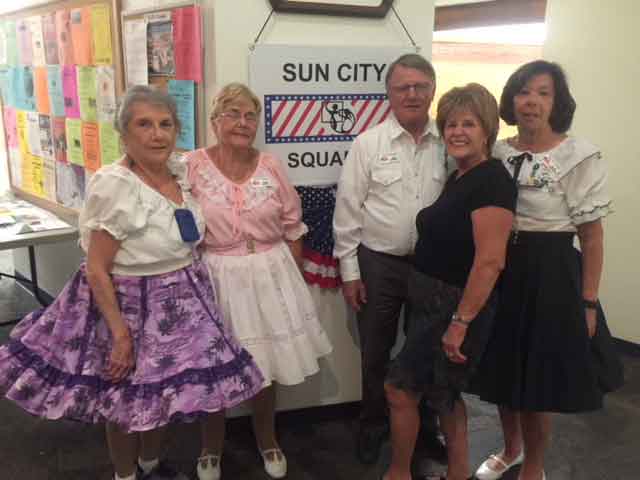 Category: Dance
Location: Bell Center
Club Contacts: 
Club Schedule:
Tuesdays – Cost:  $5.00 for club members; $7.00 for guests
Pre-Rounds:  6:30-7pm

Mainstream/Plus Squares: 7-9pm
Caller: Dee Dee Dougherty
Larry Sperry, Cuer – Jan, Feb, Mar
Tuesdays (Starts November 21) at Bell Social Hall – NOTE: No new enrollees at this time!
Thursdays (Starts November 30) at Marinette – NOTE: No new enrollees at this time!
Larry & Susan Sperry – Cuer/Instruction
View the flyer (linked above) for more information!
Currently Closed for the Season – May thru October
---
UPCOMING SCHEDULE and SPECIAL EVENTS:
Beginner Square Dance Lessons – Fridays from 7 to 9pm – NOTE: Closed to new students at this time!
Plus Workshop Dances – Fridays from 6 to 7pm
Dennis Farrar, Caller/Instructor
If you ANGEL for lessons, the workshop is free!
Click here for our flyer containing more information!
Contact Information:
Email: Suncitysquares@Q.Com
Mary Sue: 623-875-2642 or Marilyn 623-930-7513 
Dances are open to RCSC Cardholders, escorted guests and visitors.