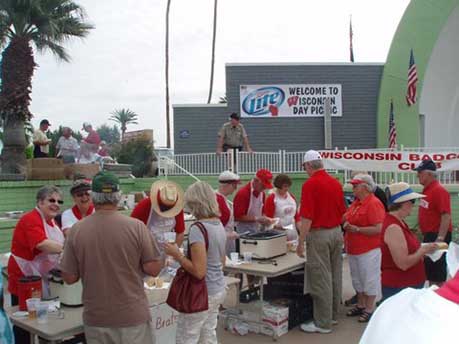 The Wisconsin Club of Sun City is open to all RCSC Cardholders who at some point in their lives resided in the state of Wisconsin – The Badger State, home of Harley Davidson Motorcycles, dairy capital of the United States, and so much more!
Category: Social
Location: Fairway Center – Arizona Room #2
Club Contact:
Membership Dues:
Valid RCSC Membership Card required
Annual Dues: $5.00
Upcoming Meetings:
Board Meeting – Thursday, January 11, 2018 at 10am @ Fairway Arizona Room 3
Volunteers Meeting – Tuesday, February 27, 2018 at 10am @ Sun Bowl
Annual Member Meeting – Tuesday, March 13, 2018 at 11am @ Fairway Arizona Room 3
Mark Your Calendar! Wisconsin Day at the Sun Bowl – Thursday, March 8, 2018
10am to 3pm (Food served 11am-2pm only)
Beer, Brats, Beans, Chips, Soda, Hot Dogs
Make it a great Wisconsin Picnic in 2018 by volunteering to help!
Just complete this form and return it to Linda McIntyre.
A Special Thanks to Sponsors of 2018 Wisconsin Day Picnic
---
Another great Wisconsin event here in Arizona!
The UW Now: Phoenix
March 8, 2018 – 5:30PM – 9:00PM
Get registered for this event now! Right here!
Omni Scottsdale Resort & Spa at Montelucia, 4949 E. Lincoln Drive, Paradise Valley, AZ
In cities throughout the country, The UW Now events give alumni and friends a glimpse into what's happening right now on campus and allow them to connect with alumni in their area.
Three world-changing professors are coming to Phoenix:
Howard Bailey — A leading researcher who is pushing the boundaries of cancer treatment
Cynthia Carlsson MS'05 — A brilliant professor who is finding new ways to prevent and someday cure Alzheimer's
Charles Raison — An internationally recognized psychiatrist who is revealing the mysteries of the human mind and body