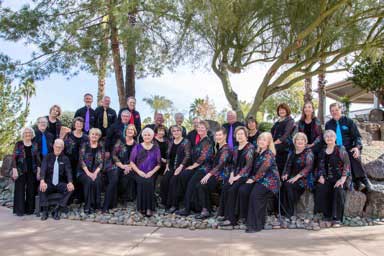 The Choraliers of Sun City is a mixed vocal ensemble consisting of members who love to sing. Choralier members have varying backgrounds in music from vocalist to music instructors to practicing musicians.
The Choraliers of Sun City sing Broadway show tunes, Pop ballads, Standard big band classics, Vocal jazz, Spirituals, Patriotic, Classical.
The Choraliers of Sun City perform at Retirement Centers, Country Clubs, Civic and Ethnic Clubs, and Nursing Homes, approximately 25 shows from November through April.
Category: Performing Arts
Location: Fairway Center
Club Contact: John Tate – 623-224-1750
Booking: Carol Morse – 623-933-7202
Rehearsal Time:
NOTE: Due to the current health crisis situation, the Sun City Choraliers have cancelled their spring show season. All rehearsals are cancelled and we hope to resume rehearsals on September 13, 2021. More information will be released when it becomes available. 
Mon 8:30-11am, Music Room at Fairway, mid-September to May
Optional Sectionals on Thursday mornings – Men, 9am – Women, 10am at various locations
Club Fees: $10 annual dues
Membership is open to all RCSC Cardholders. Participate in 1-3 rehearsals and then audition for director and a small committee.
For more information, please visit www.suncitychoraliers.com.