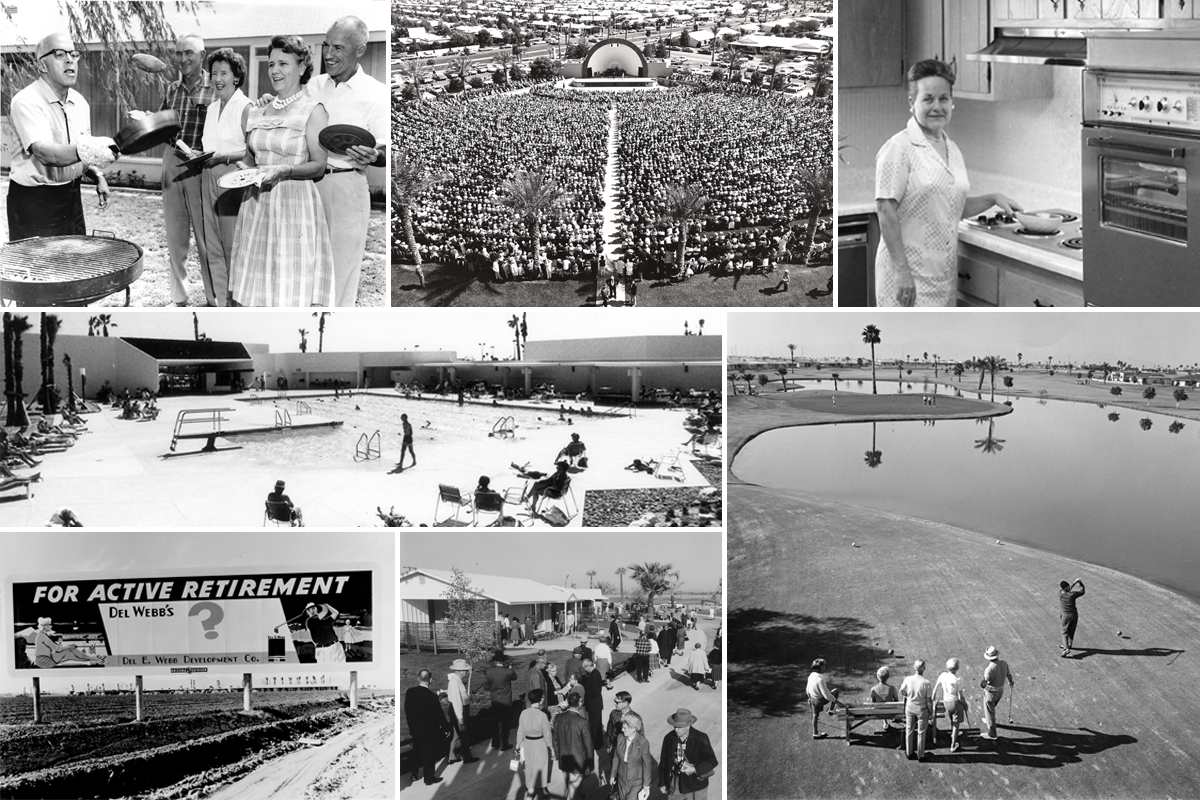 The original retirement community
It's the first, and many people say, the best. Most of the standard features of a 55+ adult community originated here in Sun City, Arizona, including the idea of building an entire community dedicated to leisure and recreation for the active retired adult. Through more than 50 years it has prospered and matured into one of the best values in the country. Our legacy is to continue providing our residents the best place to retire in the state, in our nation, and in the world.
A radical new idea
When The Del Webb Development Company (DEVCO) opened Sun City Arizona's first five model homes on January 1, 1960, it was embarking on a brave new venture. It was proposing a rather bold idea: a master-planned retirement community built specifically for active adults. This was truly an original concept because up until this time, retirees were expected to retreat from life—literally, to retire from it—so they could sit at home and rock away their golden years.
The notion that you would pull up roots, move to a vacation spot, buy a stylish new home, and surround yourself with fun and pleasure in a community of people just like you? Well, that was unheard of. But Sun City, Arizona turned that thinking on its head, and in the process, it set the gold standard for a quality retirement lifestyle. To this day we maintain the highest value, service, and living for the 55+ active adult looking to retire.
A lot of people thought it would flop
But as it turned out, thousands of cars lined Grand Avenue that fateful January day. Long lines snaked around the model homes. Many people purchased within the first hour. By the end of the first weekend, there were more than 100,000 visitors who came to see what was being developed in this amazing Arizona desert, and DEVCO officials sold 237 homes representing about $2.5 million in sales. The company had planned to sell 1,700 homes in its first three years, but in the first year, a total of 2,000 homes had been purchased. Our community is the perfect place to find peace as well as a good neighbor.
Sun City Arizona's initial success earned national attention
The community was highlighted in newspaper and magazine articles throughout the country, featured on the national news, and profiled on TV shows. Del Webb himself was featured on a 1962 cover of Time magazine. His legacy is our legacy and we hope to keep that candle burning bright.
Neighborly from the start
Stories abound about how close-knit the community was back in the early 1960s. Friendship, socializing, recreation, and fun were—and continue to be—the main staples of living in Sun City, Arizona. It's not unusual to meet second and even third generation residents; children and grandchildren of those original forerunners who have now made Sun City, Arizona their home too. Sun City, Arizona is a new place to experience retirement life.
A self-contained community
Webb wanted Sun City, Arizona to be a place where residents could meet all their needs without having to leave its boundaries. During development, he set aside parcels of land for shopping centers and businesses around the community. As the population grew, so did the need for a variety of services, such as shopping, medical, dining, and long-term care. The community's first church was the United Church of Sun City, Arizona. Its first long-term care facility was Sun Valley Lodge. Its first hotel was the Hi-way House, which also served as a restaurant and an apartment for those waiting for their homes to be built (not to mention the Sun City headquarters for Del Webb). His Legacy is Sun City, Arizona and we hope to keep that dream alive.
Access to quality healthcare
At first, the nearest hospital was in Glendale, Arizona which was a bit too far. A community fund drive capped off by a $1.2 million donation from the James G. Boswell Foundation (named after the man who once owned the land where Sun City now exists) allowed for the creation of Boswell Hospital. Ground was broken in 1969 and the facility's first two towers opened in 1970. As Sun City, Arizona and the West Valley have grown, Boswell has added services and facilities to better serve the region's needs. In 2008, Banner Boswell Hospital finished an extensive multi-million dollar expansion to improve medical and healthcare services to Sun City, Arizona and the surrounding area. And Banner now ranks in the Top 100 Hospitals nationwide. The healthcare amenities available to Sun City, Arizona are some of the best available in the nation.
Happy half a century
After more than 50 years, Sun City, Arizona remains a very desirable place. In recent years, Sun City, Arizona has begun welcoming its third generation of people seeking an active lifestyle. The Baby Boomer generation, who began reaching retirement age this decade, is set to redefine the traditional retirement years. The incredible economic development and growth of the area has created jobs and opportunities that draw still-working Baby Boomers to the area. And Sun City, Arizona allows them to live the active adult lifestyle they long for, just as it did all those years ago.