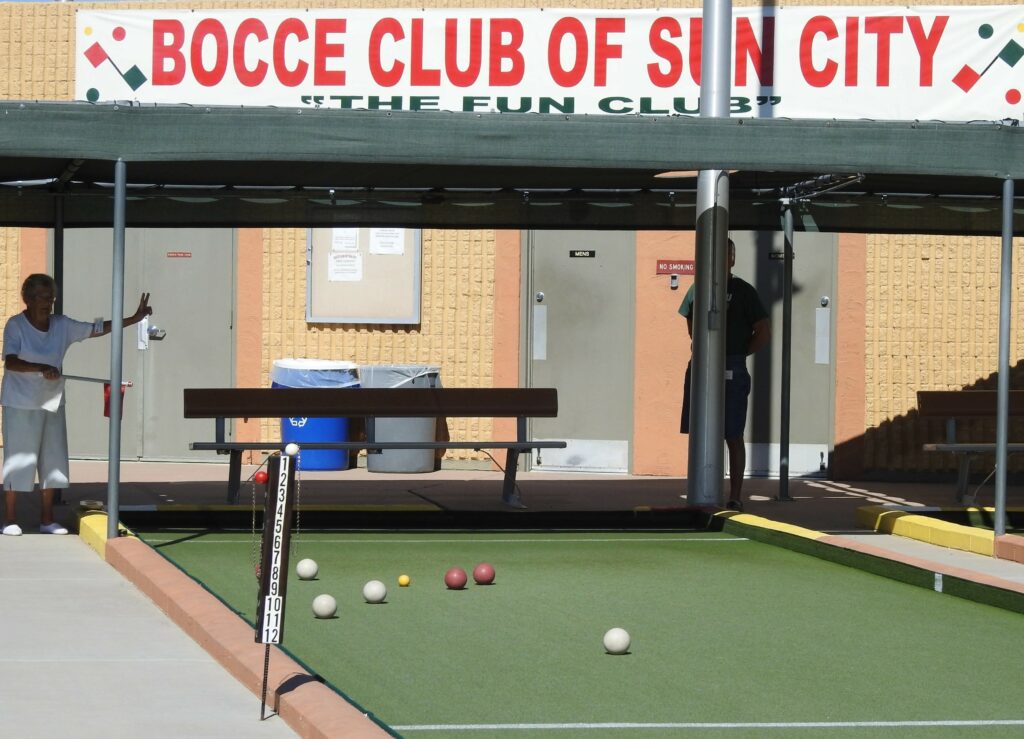 Bocce is an easy game for everyone.  Played on carpeted courts which are well shaded at each end.  Free lessons and all equipment is furnished.  Nothing to buy.  Appropriate, modest attire must be worn. Open to all RCSC Cardholders and their escorted guests. All courts are wheel chair accessible.  Call the phone numbers below and we will make special arrangements to meet with you and teach you the game of bocce.  Or, stop by the clubhouse for details.  This is truly a fun club to check out.
The game is played by first rolling a small ball, called pallino, down the court.  Each player then rolls their bocce balls, trying to get as close to the pallino as possible.  Points are scored based on the closest color ball to the pallino. Members of the Bocce Club also participate in the Tri-Cities Tournament and various other games with Bocce clubs around the area.  Open houses are held each year where we welcome newcomers.
Category: Sports
Location: Sundial Center
Club Contacts:
Club Email: bocceclubsc@gmail.com
Meeting Times: 2nd Monday evenings (February, November and December)
Membership Fees: $10 Annual Dues
Club Tournament Play: 
October – mid-May:  Daytime Tournaments are played Monday, Tuesday, Wednesday & Friday
Open Play:
Mid-May – September:  Tuesday & Thursday am
October – mid-May: Sunday 2pm
Friday Night 25 Cent Play is played January thru December
Times vary for all play except Sunday Open Play. Always check the Club House bulletin board for the current month's schedule or view here now:
Meetings & Parties:
All parties are held on the second Monday of the month in the Sundial East Hall.  Parties include:  February Valentine, Picnic (last Monday in March), November Election and December Christmas party.  A Halloween party is held at the Bocce courts in October where prizes are given for the best costumes.