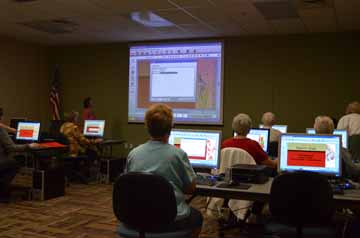 The Computer Club of Sun City is an active Windows-compatible computer club serving Sun City. The club is the meeting place where members come to share computer knowledge and experiences and have fun in a social environment. Classes, special interest group discussions, workshops and presentations are provided. RCSC cardholders can join the club by attending a new member orientation presented at specified times throughout the month. Check the club website or phone the club for schedule information.
Category: Educational
Location: Fairway Center
Club President: Eugene Stashick 623-256-4618
Club Vice President:  Dick Dudden
Club Room: 623-933-8953
Website: www.computerclubofsuncity.com
Club Hours:
Monday thru Friday – 8am to 4pm; Saturday 8am to noon (Winter Hours – Sept thru April)
Monday thru Saturday – 8am to noon (Summer Hours – May thru Aug)
Club Schedule:
Classes: Full schedule of hands-on computer classes available to club members taught by knowledgeable volunteer instructors on Windows 10 computers throughout the year. Check the club calendar on the club website for dates and times. Pre-registration required for all classes.
General Membership Meeting (November):  A social gathering and business meeting at 1 p.m. in Arizona Room, Fairway Center (first floor). Please check the November calendar on our website – http://www.computerclubofsuncity.com/Calendar/calendar.html
Member Lab & Classrooms: Computers, printers, scanners, and high-speed internet connection provided for members in an open lab.
Special Interest Groups (SIGs): Monthly discussion group meetings for members and guests to provide answers to computer-related problems and questions on specific topics, such as Windows, Android phones and tablets, email, internet, computer backup, investing, computer tech and clinic, hardware problems and solutions.
Presentations: Special presentations on various topics of general interest are held throughout the year. Presentations are open to club members and guests.
Workshops: Workshops offer a new form of learning experience for Club members. They are focused, informal, hands-on, and with smaller groups. Topics of the Workshops are targeted to a specific topic and will be related to PCs or Android devices. Tables are arranged for members to use their own laptop, tablet or phone.
Club Fees:
$15 annual dues (effective 1/1/2017)
Free Club Intro class
$5 fee for other classes
USB flash drives available for purchase