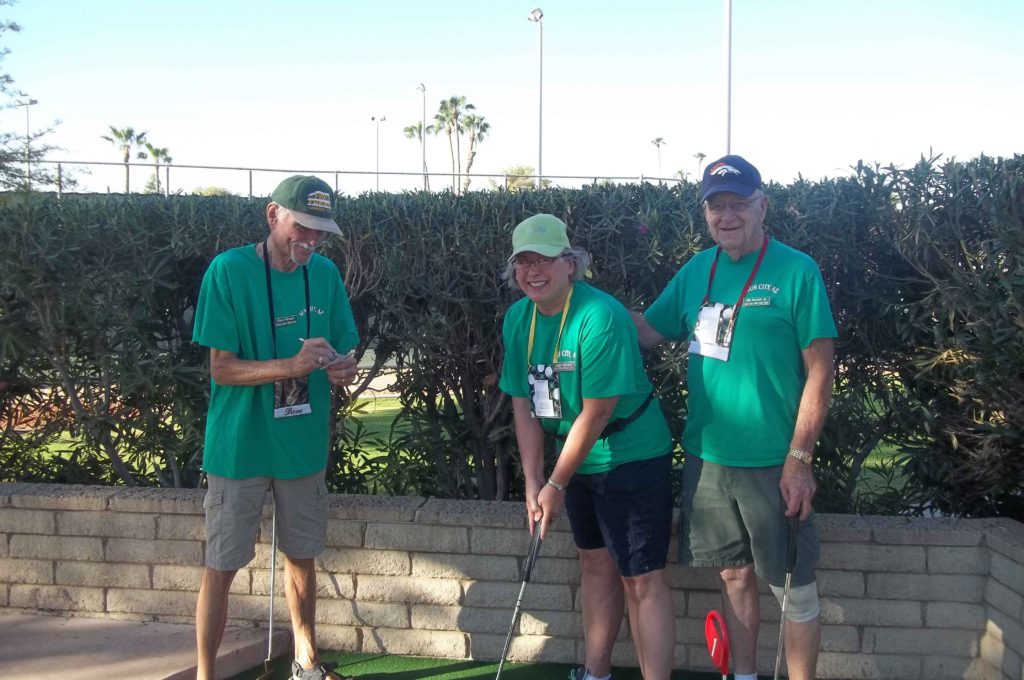 We play at all four RCSC mini-golf courses, and all equipment is provided free for our members during tournament time. Brochures are also available at each of the courses with information about the Mini-Golf Club.
Meetings – Monthly meetings are held at Lakeview Recreation Center on the second Tuesday of the month at 10am in Social Hall #1 with Social Hour from 9 to 9:50am. Coffee and treats are provided at the meeting. Regular tournament play is held on the 2nd and 4th Wednesdays of the month. Starting times do change according to our weather. Printed sheets are given out to each member with the time, dates and courses where we play. We also send out e-mail reminders as well as phone call to remind you of golf play tournaments.
Club Events – The club looks forward to our annual Friendship Tournament with the Sun City West Mini-Golf Club. In the spring we go to Sun City West and in the fall Sun City West comes to Sun City. Starting off the morning fun with a wonderful breakfast hosted by the home club. We then enjoy the friendly competition and fellowship of the tournament.
Our Christmas party is enjoyed by all with games and fantastic food being served. It is also a great time to hob knob with every one and to get to know one another better.
Club members look forward to the annual Spring luncheon held in April with games being played, great food and lots of camaraderie with fellow members.
The month of May finishes tournament play until September rolls around, when tournament play resumes.
Club fees – Yearly dues are $5.00 per person and we welcome all current RCSC Cardholders. We like to say, the fresh air and a little exercise are perks of playing mini golf, no fees for them.
Category: Sports
Location: Lakeview Center
Club Contacts:
Meeting Times:  2nd Tuesdays  10-11am; Social Hour 9-9:50am
Upcoming Meeting/Tournament Schedule: TBA