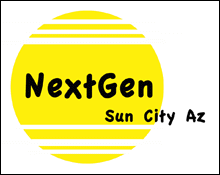 NextGen is a social club open to all RCSC Cardholders. The club hosts a wide variety of activities including monthly golf scrambles, happy hours, hikes, bike rides, bowling, concerts, dart, shuffleboard, card games and more. The club is designed to bring people together and foster new friendships and social connections.
Looking Forward, Planning Ahead
The NextGen Club also feels that we can, and should, provide ideas intended to increase community appeal for future generations of Sun Citians. We hope that you will come and join us. You'll be glad you did.
Category: Social
Location: Fairway Center
Club Contact:  Tammy Ruocco – 716-445-7383
Club Website: nextgensuncity.org/
Meeting Times:
Meetings are 6:30pm on the 1st & 3rd Monday (Sept-May) and 1st Monday (June & August) at Fairway Recreation Center (no meeting in July). Please visit our website at nextgensuncity.org/ for more information about the NextGen Club and how you can become a member of this fun, dynamic social club.