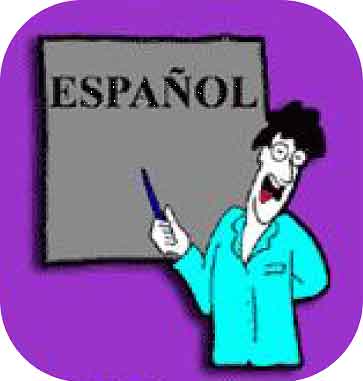 The Spanish Club, also known as El Círculo Español, offers Spanish lessons at various levels from October through April and an all-levels practice group throughout the summer. The club also has several social events during the year. Club dues are $10 per calendar year payable starting at the October general membership meeting. Check out our club bulletin board near the classroom in the Fairway Center for the latest information.
Category: Educational
Location: Fairway Center
Club Officers/Contacts:
Brian Behling, President
Suzanne Hetts, Secretary
Kathryn Cummings, Treasurer
Holly Kutner, Publicity
The Spanish Club of Sun City welcomes you to another year of Spanish classes!  Just like all the other great aspects of Sun City, this club is made up entirely of volunteers.   The board, the teachers and other helpers have kept us going strong since 1977.  The most important of these volunteers are our teachers who spend hours preparing content for your learning experience.  We are lucky to have their help and sincerely thank them for their generous contributions to our club.
The purpose of the club is simply to help our members better understand the language, the culture, and the traditions of Spanish-speaking countries.  We try to accomplish this by offering a variety of classes, by arranging monthly social outings and by enjoying the occasional meeting and pot luck luncheon.
Once you become a member, you can attend as many classes as you like, but you need to register at our Fall and Spring meeting or during the first two weeks of class. We encourage you to try different classes and teachers, and especially to try the conversation classes. Conversation, at any level of proficiency, helps your brain put together the pieces of speaking and understanding a language. If a class is too long for you, feel free to attend only part of it. Each teacher will use a unique approach, so it is up to you to decide what works best for you.
Textbooks We Use
We use three textbooks: (1) "Spanish Made Simple," by Jackson and Rubio, revised by Nemethy; (2) "Practical Spanish Grammar," by Prado, second edition and (3) "Conversational Spanish For Adults, Seeing What You're Hearing" Levels I & II, by Susan Roemer.  The first two are readily available for purchase on the web or from local bookstores and the third is available from the instructor for $20.  Members are responsible for acquiring their own books.
We are always happy to find new teachers, so if you know of any or you are willing to help teach, please let us know.  Thanks for joining our club and we hope you will share your enthusiasm for Spanish with us!
Member Meetings & Board Meetings – 2019-2020
 Thursday, October 17, 2019 @ 5:30 PM Fairway AZ Rooms 1 & 2
FALL Registation
Membership Renewals
'Finger-food' Potluck
 Tuesday, December 17, 2019 @ 11:30 AM Fairway AZ Rooms 3 & 4
Election of Officers
Holiday Luncheon
Tuesday, December 17, 2019 @ 1-4 PM Fairway Room 133
2020-2021 Schedule Planning with Instructors
Wednesday, January 8, 2020 @ 5:30 PM Fairway AZ Rooms 1 & 2
SPRING Registration
Membership Renewals
'Finger-food' Potluck
Tuesday, April 7, 2020 @ 11:30 AM Fairway AZ Rooms 3 & 4
Teacher Appreciation & Potluck
---
Members join or renew their membership at two class enrollment meetings, one in October for the Fall semester and one in early January for the Spring semester. At these meetings, members can enroll in as many classes as they want. Class descriptions from the teachers will be available to help members choose the class or classes they want. Please see the second page of the "2019-2020 Class Schedule" link below.
At the signup meetings, class enrollment sheets will be used and will be provided later to the instructors as the roster for their class.  At class, all members will be required to check in and to wear their Spanish Club name tag.  This will enable the instructor to learn names, determine headcount for handouts and to verify your club membership.
Undecided about where to start?
If the member is undecided about what class to enroll in, they may sit in on classes for the first two weeks in either semester.  For anyone not able to attend the class enrollment meetings, a membership form can be printed from our website, filled out, brought to class, and given to the instructor with a check or cash.  The membership form is also available at our Club bulletin board (outside the Fairway classroom) or in class at the instructor's table.  Members who register during class will find their new membership badges in the Club mailbox located in the hallway outside the classroom approximately one week after registering.
The textbook used for each class is clearly indicated for that class and every member is responsible for obtaining their own textbooks.  If members are unable to make the first week or two of classes, they should read the first chapters of their books so they don't get get too far behind.  Purchase books ahead of time and have them for the very first class.
Anyone having used textbooks may bring them to the two enrollment meetings where they can sell or donate them to other members.  The Club will provide a table for your use, however sales are between individuals.  The Club will not collect money and will not accept donated books or materials.
Thank you to our loyal members for participating in our shared learning experience!
---
Class Prerequisites: 
Beginners Level 1- Anyone
Beginners Level 2 – Recent class experience
Intermediate Level 1 – Some knowledge of basic tenses
Intermediate Level 2 – Comfortable with simple speaking & reading (literature)
Intermediate Conversation- Conversation with occasional use of dictionary