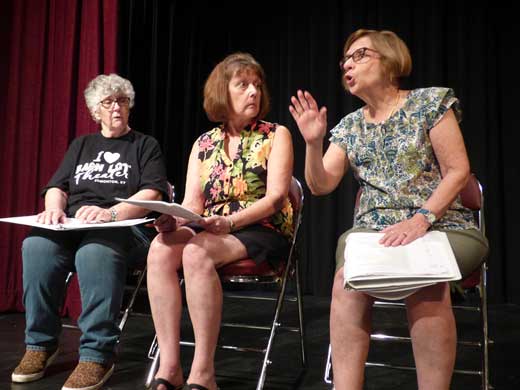 NOTE: All remaining performances of Broadway on 107th have been cancelled.
Sun City Players Community Theater celebrates over 50 years as Sun City's premier performance and production community theater. The club is dedicated to excellence in entertainment and offers opportunities for residents to study and experience all facets of theater.
Join us to participate or just be entertained. We meet from September through May. All RCSC Cardholders may join. Read about our current activities on our website.
Category: Performing Arts
Location: Mountain View Center
Club Contact: Jim McConnell (623-308-4642)
Meeting Times:
Players' Club House – Every Wednesday from 9:30 to 11:30am  @ Mountain View, October thru April. 2018-19 season will focus on theater production elements.
General Membership Meeting – 3rd Monday of every month September through May at 7pm.  Join Players for these free evenings of great entertainment. RCSC cardholders are invited to take this opportunity to experience the joys of SCPCT and to consider joining us for only $5 annual membership. SCPCT membership includes a monthly newsletter Playbill which features Club news, audition dates and Monday meeting program topics. Visit our website for membership, tickets and other Club information.
UPCOMING 2019/2020 PRODUCTIONS:
Season Tickets on sale starting Thursday, August 1, 2019