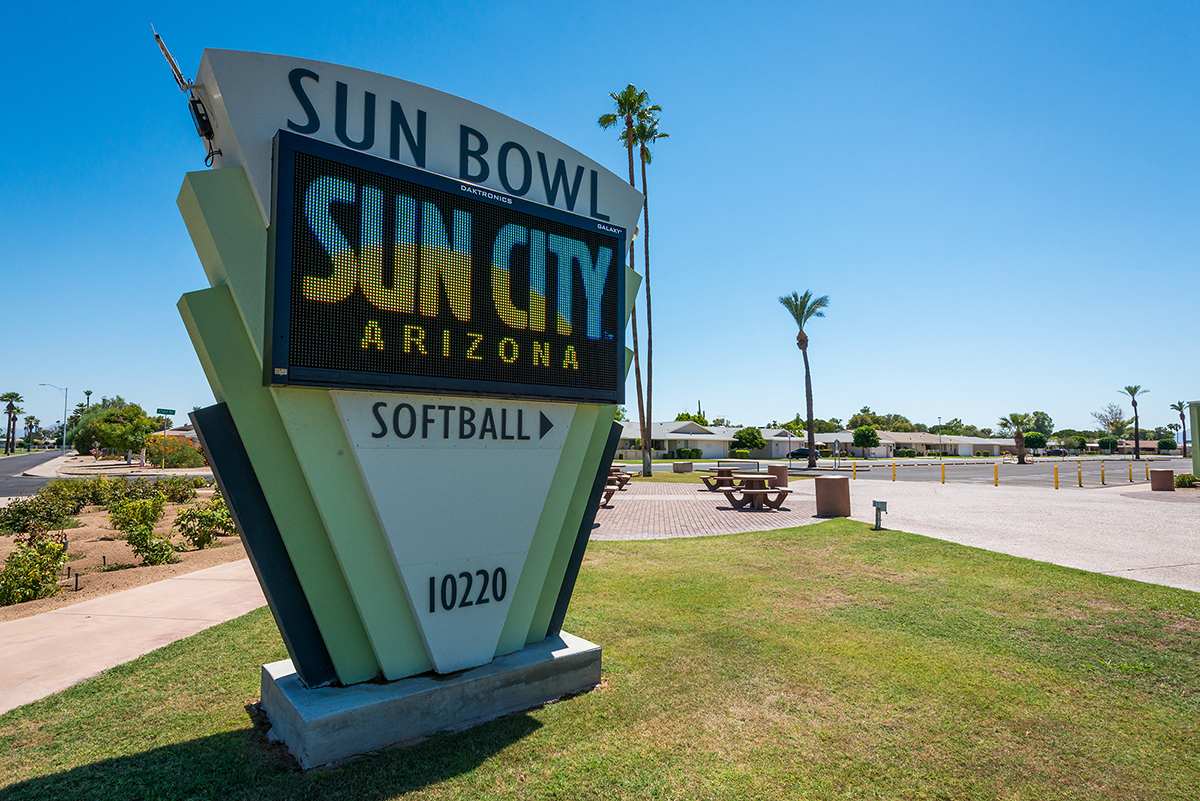 Sundial Auditorium and the Sun Bowl are the venues for a variety of concerts throughout the year. From local favorites to national treasures, RCSC Cardholders and their escorted guests are sure to be entertained all year round! RCSC is proud to present these Sun City Attractions that you've just got to see to believe!
Be prepared to show your RCSC Member or Privilege Card with photo (no key fobs accepted) to gain access to all free RCSC Events & Concerts.
Sunday Nights at The Sun Bowl
Sun Bowl Shows are free to RCSC Cardholders and their escorted guests. Please be prepared to show your RCSC Member or Privilege Card (with photo) in order to obtain admittance; positively no key fobs accepted. Bring your own lawn chair or blanket to the Sun Bowl Concerts. Please note that early reservation of seating space is not allowed and that chairs nearest the stage are reserved for those individuals arriving by buses only. Smoking is only permitted in the parking lot around the Sun Bowl.
In the event of inclement weather, shows are moved to Sundial Auditorium, 103rd Avenue and Boswell Boulevard. For a recorded message regarding venue change, call 623-972-6014.
** Gourmet food vendors arrive 1-1/2 hours prior to all Sun Bowl shows! **
---
2019 Fall Sun Bowl Concert Series
Fall will be here before we know it and we'll have more great music in Sun City AZ for RCSC Cardholders and their guests at the Sun Bowl Amphitheater!
Sun Bowl Shows are FREE for RCSC Cardholders and their escorted guests and your cooperation by presenting your RCSC Member or Privilege Card (with photo) for admittance at these shows is greatly appreciated (absolutely no key fobs accepted). We look forward to seeing you at the "Bowl" for more great entertainment!
Sunday, September 29, 2019 @ 7pm
Let's kick off the fall season at the Sun Bowl with Juke Box 6 featuring Tammie Stockley and Nicole Pesce as these talented women team up with lead guitarist Dave Fisher and Dave Marshall on drums, bringing to the stage great cover hits that span six decades.
Sunday, October 6, 2019 @ 6:30pm
The talent and versatility of The Walkens has made this band one of the most sought after performers in Phoenix and the Southwest – opening for national acts and playing over 100 shows each year. From Top 40 to country, classic rock to Motown and more, The Walkens will keep the hits coming and the dance floor hoping!
Sunday, October 13, 2019 @ 6:30pm
With ten consecutive platinum albums between 1975 and 1995, the music of Bob Seger and The Silver Bullet Band truly provided the soundtrack to an entire generation, especially for those in the Midwest. Come relive those memories of "Old Time Rock & Roll" and show off your "Night Moves" with lead man Sam Morrison and this fabulous tribute band.
Sunday, October 20, 2019 @ 6:30pm
Creedance Clearwater Revival's hits between the years 1968 and 1972 performed by Randy Linder is certain to be a true REVELATION for those attending this show! Along with a few John Fogerty solo hits, you'll soon remember how many of these songs were on your favorite's list way back when. Experience the Creedance Revelation for yourself – right here in Sun City AZ.
Sunday, October 27, 2019 @ 6:30pm
Featuring Eddie Diamond, That Kool Band plays all your favorites with authentic interpretations, giving you the sense that you're hearing the original artist performing. Hits from the early days of rock 'n roll through the peace and love generation of the 60s clear through to more current chart-toppers, this will for sure be a very "kool" evening of dancing fun for all!
Sunday, November 3, 2019 @ 6pm
Get ready to kick up your heels on the dance floor as we proudly present "That's Country!" Enjoy hits from country music legends including George Strait, Garth Brooks, Glen Campbell and Brooks & Dunn along with tunes from Dolly and Reba, too guaranteed to keep everybody wishing for more!
Veterans Day Tribute
Sunday, November 10, 2019 @ 4pm – NOTE: Early Show Time
Join us as we honor our Veterans – both past and present – with an encore performance and presentation by the Ahwatukee Foothills Concert Band and the Ahwatukee Children's Theatre. What more can we say except, "Thank you for your service!" Your attendance at this event is truly an honor and a pleasure.
---
Sundial Concerts
Sundial Shows are normally ticketed shows held in the Sundial Auditorium. Tickets can be purchased at the Lakeview Club Office and all ticketed Sundial shows are open to both RCSC Cardholders & non-cardholders.  RCSC is pleased to announce that we will continue to have reserved seating for all ticketed Sundial concerts in 2019! With video projection screens, you're guarantee that every seat in the house is a great seat. Tickets are also available at the Sundial Box Office one hour prior to each show.
Doors open at 6:00pm and shows begin at 7:00pm.  Please arrive with adequate time to be seated prior to show time. The Lakeview Clubs Office also takes phone reservations for ticketed shows with credit card only (Visa, MasterCard and Discover) by calling 623-561-4660. The Clubs Office is open Monday-Friday from 8:30 am-4:00 pm. All free shows in the Sundial Auditorium will continue to be general admission and are intended for RCSC Cardholders and their escorted guests only!
PLEASE NOTE: FM Transmission is now available at 99.1 FM for ALL concerts! Please remember to bring your own device & headphones so as not to disturb others attending.
---
Summer Concerts at Sundial
These special concerts are free for RCSC Cardholders and their escorted guest only. Relax indoors in air conditioned comfort with these great performances. General admission seating; Doors open at 6pm. Please be prepared to present your RCSC Member or Privilege Card for entry; key fobs not accepted.
---
Winter/Spring Concerts at Sundial – All seats reserved!
Experience a wonderful evening of great entertainment shared with good friends at an unbelievable price!
Season Tickets for the 2020 Winter/Spring Sundial Concert Series will be available for purchase by RCSC Cardholders only in early November. Tickets for individual shows will be available for purchase by RCSC Cardholders only December 2019; non-RCSC cardholders may purchase tickets beginning in January 2020 (depending upon availability).
All Sundial shows are at 7:00pm; doors open at 6:00pm. Please arrive with adequate time to be seated!
Gourmet food vendors will no longer accompany Sundial shows; please feel free to bring your own beverages and/or snacks if you prefer. New video screens in the Sundial Auditorium guarantee that every seat in the house is now a great seat!
 ** NOTE: All ticket sales are final; no refunds. Season tickets are transferrable should you be unable to attend every show.
Looking forward to 2020 and another great line-up of shows for Sun City AZ!
We'll once again offer Headliners, Tribute Bands, Comedy & more!
---
Lounging on the Lawn at Lakeview
New in 2018, "Lounging on the Lawn" plans to offer alternative musical selections in a unique & relaxing atmosphere near the lagoon & waterfall at Lakeview Center. Due to the limited seating area, RCSC Cardholders must present their photo ID cards to obtain free tickets two weeks prior to the event at the Lakeview Clubs & Activities Office. Seating in the pavillions will be restricted to those who are physically challenged. Cardholders will need to bring their own lawn chairs or blanket. You are also welcome to bring your own snacks & beverages.
There are no shows currently scheduled for the Lounging series!