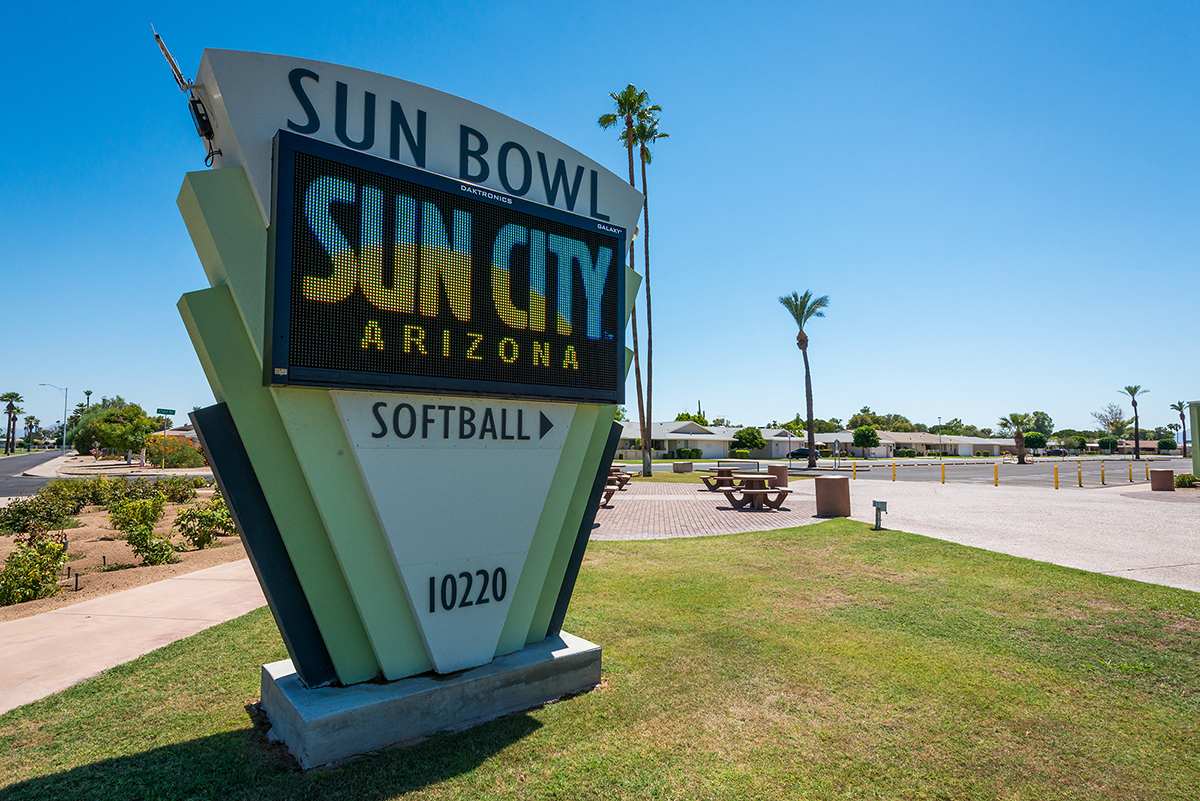 Events & Entertainment staff looks forward to the return of
live entertainment

for RCSC Cardholders & their guests when it is safe.
NOTE: All scheduled events are subject to change; all COVID-19 regulations & restrictions regarding face masks, sanitation & physical distancing requirements will be strictly enforced.
** The Events & Entertainment is located at Sundial Center (phone 623-561-4680)
and is currently closed until Phase 3 of the RCSC Phased Re-opening Plan **
---
Sundial Auditorium and the Sun Bowl are the venues for a variety of concerts throughout the year. From local favorites to national treasures, RCSC Cardholders and their escorted guests are sure to be entertained all year round! RCSC is proud to present these Sun City Attractions that you've just got to see to believe!
Please be prepared to show your RCSC Member or Privilege Card with photo (no key fobs are accepted) to gain access to all free RCSC Events & Concerts.
Sunday Nights at the Sun Bowl –

Cancelled until 2021
Sun Bowl Shows are free to RCSC Cardholders and their escorted guests. Please be prepared to show your RCSC Member or Privilege Card (with photo) in order to obtain admittance; positively no key fobs accepted. Bring your own lawn chair or blanket to the Sun Bowl Concerts. Please note that early reservation of seating space is not allowed and that chairs nearest the stage are reserved for those individuals arriving by buses only. Smoking is only permitted in the parking lot around the Sun Bowl.
In the event of inclement weather, shows are moved to Sundial Auditorium, 103rd Avenue and Boswell Boulevard. For a recorded message regarding venue change, call 623-972-6014.
** Gourmet food vendors arrive 1-1/2 hours prior to all Sun Bowl shows! **
---
2021 Winter/Spring Sun Bowl Concert Series 
We're already gearing up for the new normal in the new year and will be announcing the 2021 Spring Sun Bowl Concert series soon.
We'll have more great LIVE music in Sun City AZ for your listening and dancing at the Sun Bowl Amphitheater! All Sun Bowl Shows are FREE for RCSC Cardholders and their escorted guests. Your cooperation by presenting your RCSC Member or Privilege Card (with photo) for admittance at these shows is greatly appreciated (absolutely no key fobs accepted). We look forward to seeing you at the "Bowl" for more great entertainment!
Sundial Concerts
Sundial Shows are normally ticketed shows held in the Sundial Auditorium. Tickets can be purchased at the Events & Entertainment Office (which is now located at Sundial Auditorium).  RCSC is pleased to announce that we will continue to have reserved seating for all ticketed Sundial concerts in 2021. Video projection screens guarantee that every seat in the house is a great seat.
Doors open one hour prior to each performance. Please arrive with adequate time to be seated.
Tickets for specific shows may be purchased at the Events & Entertainment Office (when appropriate). Online and phone reservations for ticketed shows are also available with credit card only (Visa, MasterCard and Discover) by calling 623-561-4680. The Events & Entertainment Office is open Monday-Friday from 8:30 am-4:00 pm. All free shows in the Sundial Auditorium continue to be general admission and are intended for RCSC Cardholders and their escorted guests only!
PLEASE NOTE: FM Transmission is now available at 99.1 FM for ALL concerts! Please remember to bring your own device & headphones so as not to disturb others attending.
UPDATE – Changes to 2021 Winter/Spring Concerts at Sundial


All Concerts are currently postponed!
---
RCSC has determined that we will be postponing the Sundial 2021 Winter/Spring Sundial Concert Series due to continued COVID-19 concerns.
Depending upon further developments, we hope to be able to bring some or all of these spectacular shows to Sun City AZ but will not do so until it is safe for all to attend.
Additional information will be released via email announcements and press releases to the local media when the situation changes and we are able to move forward. Your cooperation and patience as we continue to proceed cautiously into the new year is greatly appreciated.
The Events & Entertainment Office at Sundial remains closed. Any questions regarding the upcoming concerts should be emailed to entertainment@suncitaz.org or by leaving a message at 623-561-4680.
NOTE: All scheduled events are subject to change; all COVID-19 regulations & restrictions regarding face masks, sanitation & physical distancing requirements will be strictly enforced.
---
Get ready to experience another great concert series right here in Sun City AZ – shared with good friends at an unbelievable price!
---
Individual Show Ticket Sales begin on Monday, January 18, 2021
(series tickets will no longer be available)
Cost: RCSC Cardholders – $20 per person; $25 per person for premium seats. All ticket sales include a non-refundable processing fee. 
 ** NOTE: All ticket sales are final. Refunds will be issued if show(s) is cancelled and cannot be rescheduled. Tickets are transferable should you be unable to attend any show.
Wednesday, January 13, 2021 – POSTPONED
The Chicago Experience
RCSC is pleased to start this season with the music and majesty of the original "rock and roll band with horns," as we welcome The Chicago Experience to the Sundial stage. Two vocalists blend seamlessly with amazing horn and rhythm sections to recreate the signature sound of the Rock & Roll Hall of Fame members who earned a staggering number of awards and accolades – 23 gold albums (five that went to number one), 21 top-ten singles and 100+ million albums sold. The Chicago Experience featuring hits such as "Saturday in the Park," "If You Leave Me Now," "Does Anybody Really Know What Time It Is?" and many, many more. Get ready for an evening of the greatest songs from the greatest band of all time.
Wednesday, January 13, 2021 – POSTPONED
Still Crazy After All These Years – A Tribute to Paul Simon
Rock and Roll Hall of Famer, multiple Grammy winner, and prolific singer/songwriter Paul Simon is lauded as one of the all-time greats. Spend an evening listening to his most popular solo hits (Me & Julio Down by the Schoolyard, 50 Ways to Leave Your Lover, Mother and Child Reunion, You Can Call Me Al, Kodachrome), including a range of selections from his unparalleled 1985 album Graceland. The multi-faceted Chach Snook stars in this tribute and is joined on stage by arranger/pianist/percussionist Khris Dodge and a collection of musicians who will honor this living legend.
Wednesday, January 27, 2021 – POSTPONED
Classics Rock
Classics Rock brings you an amazing collection of Arizona's finest symphonic musicians in a concert that blends Vivaldi and Valli, Mozart and Elton John, Chopin and Manilow, and much, much more. Featuring the vocal talent of versatile stage/opera/cabaret veterans Dennis Tamblyn and Liz Cracchiolo, Classics Rock fuses the worlds of classical and rock music and makes you fall in love with favorite songs all over again.
Wednesday, February 3, 2021 – POSTPONED
Oh Canada!
What do Celine Dion, Michael Bublé, Shania Twain, Bryan Adams, Joni Mitchell and Paul Anka all have in common? They are all incredible musicians who hail from Canada! All of these artists, plus many others are featured in this fabulous production Three amazing vocalists, along with an incredible band, take you on an eclectic journey through Canada's awe-inspiring music history, paying tribute to those great musicians and band that took the world by storm.
Wednesday, February 10, 2021 – POSTPONED
James Taylor Tribute
Get ready for this tribute to 70s soft rock legend James Taylor who overcame personal struggles including heroin addiction to bring us such memorable hits as "Fire and Rain," "You've Got A Friend" and "Shower the People." Fondly known as "Sweet Baby James," Taylor's career has spanned decades, winning five Grammy Awards and having many of his albums go platinum. He was inducted into the Rock and Roll Hall of Fame in 2000 and received a National Medal of the Arts in 2011. Get mellow and relax to the great tunes that helped to define this truly unforgettable era of our lives.
Wednesday, February 17, 2021 – POSTPONED
Linda Ronstadt – the tribute concert starring Laura Berger
This tribute to Tucson native Linda Ronstadt recognizes one of the most important and popular interpretive singers of our time, having earned a succession of platinum-selling albums and chart-topping singles. Throughout the 1970s, her easy and laid-back pop, infused with folky roots, set Ronstadt apart from her contemporaries. From the Stone Ponies to her work with Nelson Riddler, her career moved effortlessly into the 1980s and she has remained a fixture in the hearts of fans who love her. With over 30 studio albums, 11 Grammy awards, three American Music Awards, two Academy of Country Music, an Emmy Award, and more, come enjoy this stellar performance featuring one of the most prolific and beloved singers of all time.
Wednesday, February 24, 2021 – POSTPONED
One More Night – The Phil Collins Experience
One More Night is nothing short of a concert re-creation featuring the music of Grammy Award winning solo artist Phil Collins. In this amazing performance, you'll be immersed in all the famous Phil Collins colossal solo hits as well as the Genesis songs from his early career. Everyone sings and dances at an "OMN" concert, enthralled by visual similarity of the lead singer and absolute "dead on" vocals, making you think you're watching the real deal. Come and celebrate the music of Phil Collins and Genesis – and let's experience "One More Night" with this fantastic musical experience.
Wednesday, March 3, 2021 – POSTPONED
The Broadway Concert Experience
Be prepared for a spectacular "Greatest Hits of Broadway" concert – without having to make the trip to New York City! The Broadway Concert Experience brings to the Sundial stage the greatest blockbuster hits of Broadway and the West End in one massive show. From West Side Story to Les Miserables, Oklahoma to The Phantom of the Opera – this show will appeal to music and concert lovers everywhere.
Wednesday, March 10, 2021 – POSTPONED
Tennessee River – A Tribute to Alabama
We're pleased to invite the amazing Tennessee River to Sun City AZ – the first and ONLY tribute band that has the vocal chops to do Alabama's music justice. Based on a hybrid of contemporary cross-over music that brings a fusion of rural and urban sounds to modern-day country and blues along with the spirit of rock 'n' roll – Tennessee River stays true to the essence of Alabama's music. Taking their chart-topping songs and adding their own fresh, modern and unique energy and all the while, bringing Alabama's music alive again for a whole new generation of country music fans. Get your boots on and get ready for a good time kickin' fun show!
Wednesday, March 17, 2021 – POSTPONED
MJ DejaVu – Michael Jackson Tribute
Bearing a remarkable resemblance to the "King of Pop," Justin Dean has performed in multiple venues across the country entertaining fans with his amazing performance as one of the top Michael Jackson tribute artists. He has performed extensively in Las Vegas, in addition to theaters in Kansas, Oklahoma, Los Angeles, Chicago, and Arizona.  This is one tribute show that you won't want to miss!
Wednesday, March 24, 2020 – POSTPONED
Whitney Houston – The Evolution of an Icon starring Crystal Stark
As the only artist to have seven consecutive number one singles on the US Billboard Hot 100 chart, Whitney Houston forever etched her place in music history. Dynamic diva Crystal Stark pays tribute to Houston's versatility with a selection of the icon's greatest hits and enduring classics whose glamorous yet troubled life tragically ended much too soon.
Wednesday, March 31, 2021 – POSTPONED
One of These Nights – The Ultimate Eagles Tribute
We finish out the season with the return of a Sun City AZ favorite! The one, the only – "The Ultimate Tribute to America's Favorite Band – THE EAGLES!" Let's welcome back One of These Nights who promise once again to be exactly that….an unforgettable concert featuring the music from one of the most successful rock bands of all time!
PLEASE NOTE: Gourmet food vendors no longer accompany Sundial shows; please feel free to bring your own beverages and/or snacks if you prefer. Video screens in the Sundial Auditorium guarantee that every seat in the house is a great seat!
Summer Concerts at Sundial
These special concerts are free for RCSC Cardholders and their escorted guest only. Relax indoors in air conditioned comfort with these great performances. General admission seating; Doors open at 6pm. Please be prepared to present your RCSC Member or Privilege Card for entry; key fobs not accepted.
---