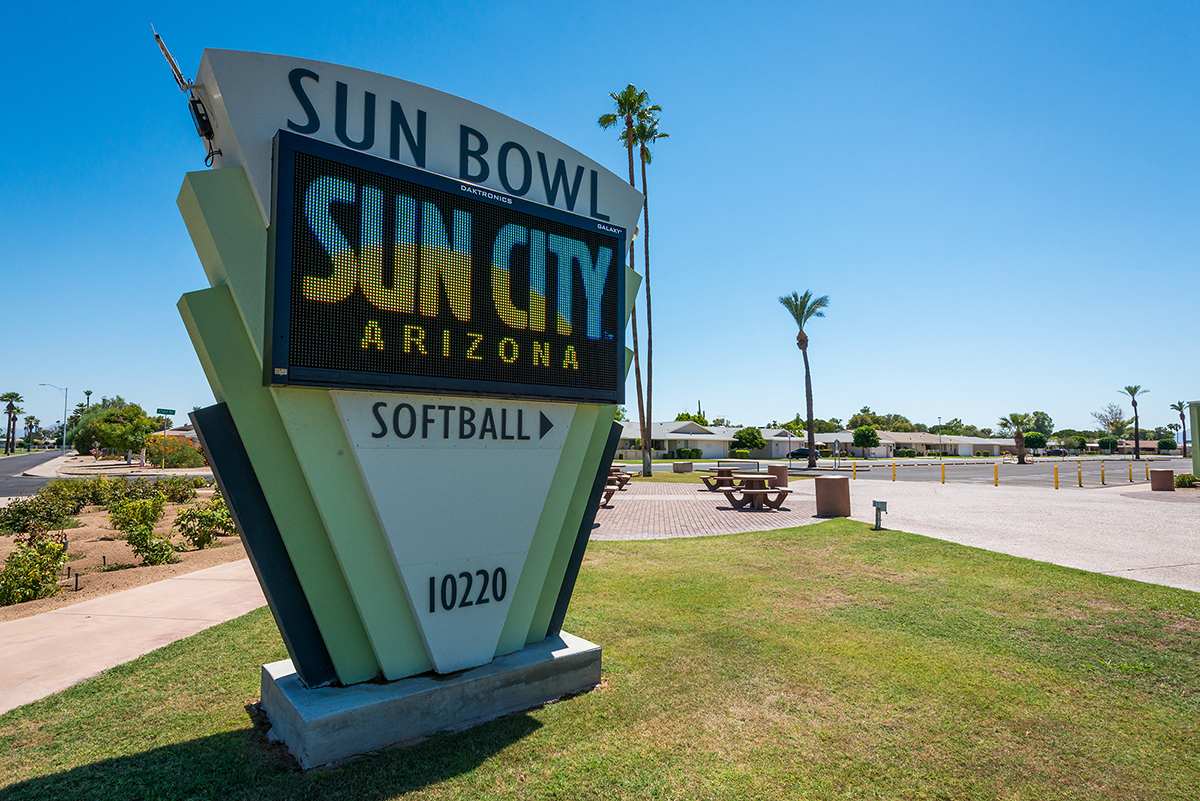 Sundial Auditorium and the Sun Bowl are the venues for a variety of concerts throughout the year. From local favorites to national treasures, RCSC Cardholders and their escorted guests are sure to be entertained all year round! RCSC is proud to present these Sun City Attractions that you've just got to see to believe!
Be prepared to show your RCSC Member or Privilege Card with photo (no key fobs accepted) to gain access to all free RCSC Events & Concerts.
Sunday Nights at The Sun Bowl
Sun Bowl Shows are free to RCSC Cardholders and their escorted guests. Please be prepared to show your RCSC Member or Privilege Card (with photo) in order to obtain admittance; positively no key fobs accepted. Bring your own lawn chair or blanket to the Sun Bowl Concerts. Please note that early reservation of seating space is not allowed and that chairs nearest the stage are reserved for those individuals arriving by buses only. Smoking is only permitted in the parking lot around the Sun Bowl.
In the event of inclement weather, shows are moved to Sundial Auditorium, 103rd Avenue and Boswell Boulevard. For a recorded message regarding venue change, call 623-972-6014.
** Gourmet food vendors arrive 1-1/2 hours prior to all Sun Bowl shows! **
---
2020 Spring Sun Bowl Concert Series Starts March 8
Spring will be here before we know it and we'll have more great music in Sun City AZ for RCSC Cardholders and their guests at the Sun Bowl Amphitheater! Sun Bowl Shows are FREE for RCSC Cardholders and their escorted guests and your cooperation by presenting your RCSC Member or Privilege Card (with photo) for admittance at these shows is greatly appreciated (absolutely no key fobs accepted). We look forward to seeing you at the "Bowl" for more great entertainment!
The Midnight Confessions Band
Sunday, March 8, 2020 @ 6pm
Let's welcome The Midnight Confessions Band to the Sun Bowl as we start the 2020 Spring Concert series! Billed as "Just a group of hard working, regular guys performing everybody's favorite 'Timeless, FUN-time Music' is sure to get the crowd movin' with hits from the 50s, 60s, 70s…and more!! Put your hands together and let's get the party started!
Summer of Love – The Cover-Ups
Sunday, March 15, 2020 @ 6pm
Get ready for an encore performance as The Cover-Ups bring us all the hits from the "Summer of Love" right here in Sun City AZ where peace and love will prevail. Put some flowers in your hair and get ready to touch the sky as we go for a magic carpet ride of musical entertainment.
Strait Country – George Strait Tribute
Sunday, March 22, 2020 @ 6pm
The critically acclaimed Strait Country Band featuring Kevin Sterner is sure to have the cow boots a-shufflin' on the dance with a performance that showcases hit after hit from Strait's amazing 60 Number One Hits and over 80 Top 10 Hits, including some of George's lesser known gems. Let the steel pedal guitar and fiddle keep the rhythm during this exciting evening.
Thaddeus Rose Band
Sunday, March 29, 2020 @ 6pm
This great variety band promises to bring the best dance rock hit of all times to the Sun Bowl stage. With a sound that is state of the art and on point, Thaddeus' graceful yet funky hip-hop moves promise to serve as the frosting on the cake for what promises to be a simply amazing performance.
Rhondavous
Sunday, April 5, 2020 @ 6:30pm
We're certain to have a fun and entertaining performance as this 5-piece band brings energy, camaraderie and a broad scope of musical genres to the Sun Bowl. Featuring musicians with decades of professional experience who've played across the country, we're sure the connection with the audience here will be nothing short of inspiring. As they say, "It's always a great day for a Rhondavous."
The 8-Tracks
Sunday, April 12, 2020 @ 6:30pm
Get ready for fun as the greatest oldies rock & roll band covering the entire state of Arizona returns to Sun City for an evening of non-stop entertainment as we travel back in time thru the 50s and 60s, singing and swinging to the songs you love, songs that are so much a part of our lives.
Americana
Sunday, April 19, 2020 @ 6:30pm
Welcome back to Sun City AZ "Americana" – featuring the timeless songs from North American singers and songwriters like Simon & Garfunkel, Mamas & Papas, James Taylor, The Carpenters, Jim Croce, Linda Ronstadt, Eagles, Crosby, Stills & Nash, and many more. Join us as we celebrate an era of lasting classics as we dance the night away.
Doo-Wah Riders
Sunday, April 26, 2020 @ 6:30pm
There truly is no other band like the Doo-Wah Riders, who for over 40 years have been riding their own patch of the musical range throughout the west and across the globe. Possessing the rare combination of many years of experience and youthful energy, fired up by a love for what they do, The Doo-Wahs are country, with a unique, original approach. Defined by their sound… "high energy country with a Cajun twist," their ultra-tight musicianship and unique arrangements of classic and original songs make them favorites everywhere they go – including Sun City AZ! What a way to end the Spring 2020 Sun Bowl season.
---
Sundial Concerts
Sundial Shows are normally ticketed shows held in the Sundial Auditorium. Tickets can be purchased at the new Events & Entertainment Office now located at Sundial.  RCSC is pleased to announce that we will continue to have reserved seating for all ticketed Sundial concerts in 2020! With video projection screens, you're guarantee that every seat in the house is a great seat. Tickets are also available at the Sundial Box Office one hour prior to each show.
Doors open at 6:00pm and shows begin at 7:00pm.  Please arrive with adequate time to be seated prior to show time. The Events & Entertainment Office also takes phone reservations for ticketed shows with credit card only (Visa, MasterCard and Discover) by calling 623-561-4680. The Events & Entertainment Office is open Monday-Friday from 8:30 am-4:00 pm. All free shows in the Sundial Auditorium will continue to be general admission and are intended for RCSC Cardholders and their escorted guests only!
PLEASE NOTE: FM Transmission is now available at 99.1 FM for ALL concerts! Please remember to bring your own device & headphones so as not to disturb others attending.
---
Summer Concerts at Sundial
These special concerts are free for RCSC Cardholders and their escorted guest only. Relax indoors in air conditioned comfort with these great performances. General admission seating; Doors open at 6pm. Please be prepared to present your RCSC Member or Privilege Card for entry; key fobs not accepted.
---
Sun City AZ is Doing It Again!
2020 Winter/Spring Concerts at Sundial
Get ready to experience another great concert series right here in Sun City AZ – shared with good friends at a super, unbelievable price!
Tickets: $20 & $25 per person
Tickets on Sale NOW at the RCSC Events & Entertainment Office
now located at the Sundial Recreation Center
Let's get ready to do it again, Sun City AZ!
All Sundial shows are at 7:00pm; doors open at 6:00pm. Please plan to arrive with adequate time to be seated!
Wednesday, January 8, 2020
Summer of 69, Bryan Adams Tribute
https://www.summerof69.ca
Summer of 69 is Canada's tribute to Bryan Adams, one of the most successful singer/songwriters of all time. By faithfully reproducing the look, sound, energy and excitement of a real live Bryan Adams performance, we are certain this kick-off concert for the 2020 Winter/Spring Sundial series will be a memorable and entertaining experience. Well known and appreciated by millions of people worldwide with hit songs such as "Run to You," "Summer of '69," and "Everything I Do I Do for You," as well as many other Top 20 hit singles, Sun City is doing it again as we start the season with one of the most popular tribute acts from our neighbors to the north.
Wednesday, January 22, 2020
Garth & Shania Tribute
https://www.topshelftributes.com/acts/garth-brooks
https://www.topshelftributes.com/acts/shania-twain
Sun City is doing it again as we bring back The Garth Guy and Shades of Shania featuring husband and wife team Dean and Kim Simmons together on the Sundial stage straight from Las Vegas. With their great country hits and moves to match, this tribute show promises an evening of stellar music. Whether you prefer your "Friends in Low Places" or "Man! I Feel Like a Woman!" you will not want to miss this show!
Wednesday, January 29, 2020
Bless the Rains – The Ultimate TOTO Experience
https://www.blesstherainsmusic.com/
Let's welcome to Sun City AZ for the first time Bless The Rains – The Ultimate TOTO Experience! This tribute show brings the magic of Toto to audiences that can't get enough of this great band's mega world-wide hits such as "Rosanna," "Hold the Line," "Africa," "99" and more. Be prepared for a mesmerizing evening of memories with the music of Toto.
Wednesday, February 5, 2020
First Ladies of Song with American Idol Runner-up Crystal Stark
http://khrisdodgeentertainment.com/productions/first-ladies-of-song/
Get ready for a fabulous evening of entertainment when American Idol runner-up Crystal Stark performs First Ladies of Song – fantastic female artists who have taken the stage and the world by storm with their powerful voices and incredible determination. With songs that will make you laugh, cry, smile and truly appreciate the works of Aretha Franklin, Donna Summers, Ella Fitzgerald, Whitney Houston, Tina Turner and more.
Wednesday, February 12, 2020 SOLD OUT!
Piano Men – A Tribute to Sir Elton John & Billy Joel
https://www.youtube.com/watch?v=xluCkgEDJow
World class tribute artists Jeffrey Allen and Matthew Banks promise a night of great sing-along songs from two of the most well-known musicians of our lifetimes – right here for your pleasure in Sun City AZ – in this stellar tribute to Sir Elton John and Billy Joel. With careers both of these artists spanning nearly half a century, could there possibly be anyone who doesn't know every one of these rock and roll hits? We are certain the audience won't want this evening of keyboard majesty and magic to ever end.
Wednesday, February 19, 2020
Rich Girl – A Tribute to Hall & Oates
https://www.vipsentertainment.com/rich-girl/
Blue-eyed Philly soul comes to Sun City AZ as we bring you Rich Girl – A Tribute to Hall & Oates for another great tribute concert featuring the chart-topping pop hits of the 70s and 80s from the best-selling music duo of all time. Audiences are amazed at the accuracy of Rich Girl's live retrospective journey through songs such as "She's Gone,"  "Sara Smile," "You Make my Dreams Come True," – and many more – in addition their revisited and perfected version featuring some of Motown's most popular soulful recordings.
Wednesday, February 26, 2020
TRIO – The Music of Dolly Parton, Linda Ronstadt and Emmylou Harris
http://khrisdodgeentertainment.com/productions/piece-of-my-heart-2/
Welcome back for another "ladies night" at the Sundial Auditorium as RCSC presents TRIO – The Music of Dolly Parton, Linda Ronstadt and Emmylou Harris. This tribute performance celebrates the hit producing collaboration of these superb award-winning, hall of fame artists featuring soaring vocals and tight harmonies. With Jodi Darling's lilting soprano and brassy stage presence embodying Parton's style, Mindy Ronstadt's vocal stylings closely resembling those of her famous aunt, and Heather Hardy's smoky alto voice and expert fiddle playing honoring Harris' brilliance, TRIO will remind us girl power has been around for quite some time.
Wednesday, March 4, 2020
TOAST – A Tribute to Bread
https://toasttribute.com/
Toast's live performances authentically recreate the beloved hits from David Gates and Bread, the biggest soft rock band of the 70s. Relax and enjoy an evening of mellow tunes from a memorable time. "Baby I'm-Want You" to come be entertained and "Make It with You" and these family-friendly tracks that reached the Billboard Hot 100 chart and into our hearts and minds forever.  Other hits from Bread included "Summer Breeze," "Lost Without Your Love," "Let Your Love Go," "The Guitar Man," "Anyway You Want Me" and "If" – as in IF only we could remember everyone one of those greats songs from Bread way back when.
Wednesday, March 11, 2020
The Tapestry Album – The Music of Carole King
http://khrisdodgeentertainment.com/productions/the-tapestry-album/
Seems like back in 1971, everybody had Carole King on the record player or car radio. RCSC would like to invite you to a night of memories as international performing artist Katherine Byrnes recreates the entire "Tapestry" album, in order, capturing the spirit and heartfelt memories of the album that Rolling Stone magazine called "one of the greatest albums of all time." Come "Feel the Earth Move" and know that "You've Got A Friend" during this truly unique concert concept.
Wednesday, March 18, 2020
You're the One – A Tribute to Blood Sweat & Tears
http://khrisdodgeentertainment.com/
Let's put our hands together and welcome "You're The One" to Sun City AZ as they bring the dynamic Charlie Hall along with a full horn and rhythm section to the stage in this tribute to Blood, Sweat and Tears. This show promises all of the hits including Spinning Wheel, God Bless the Child, Does Anybody Really Know What Time It Is, Ride Captain Ride, Hi-De-Ho and Gotta Get You Into My Life in addition to selections from the multi-genre band and its funky contemporaries. One of the first bands to fuse horns with rock, jazz and sometimes blues – we're certain this evening's performance will be a real musical treat!
Wednesday March 25, 2020
The Miracles featuring Sydney Justin
https://www.themiraclesmusic.com/about/
We finish the 2020 Sundial Concert Series with the sweet sounds of Sydney Justin and The Miracles, which was the first successful recording act for Motown Records back in the day. After 40 years, The Miracles are keeping the Motown sound alive with hits such as, "Shop Around," "I Second That Emotion," "The Tracks of My Tears," and "Ooh Baby Baby" just to name a few. Today, The Miracles featuring Sydney Justin are loved throughout the world for their extraordinary music and electrifying stage performances. Share this very special evening with The Miracles with this final concert of an unforgettable season!
PLEASE NOTE: Gourmet food vendors no longer accompany Sundial shows; please feel free to bring your own beverages and/or snacks if you prefer. Video screens in the Sundial Auditorium guarantee that every seat in the house is a great seat!
 ** NOTE: All ticket sales are final; no refunds. Tickets are transferrable should you be unable to attend any show.
---
Lounging on the Lawn at Lakeview
New in 2018, "Lounging on the Lawn" plans to offer alternative musical selections in a unique & relaxing atmosphere near the lagoon & waterfall at Lakeview Center. Due to the limited seating area, RCSC Cardholders must present their photo ID cards to obtain free tickets two weeks prior to the event at the Lakeview Clubs & Activities Office. Seating in the pavillions will be restricted to those who are physically challenged. Cardholders will need to bring their own lawn chairs or blanket. You are also welcome to bring your own snacks & beverages.
There are no shows currently scheduled for the Lounging series!