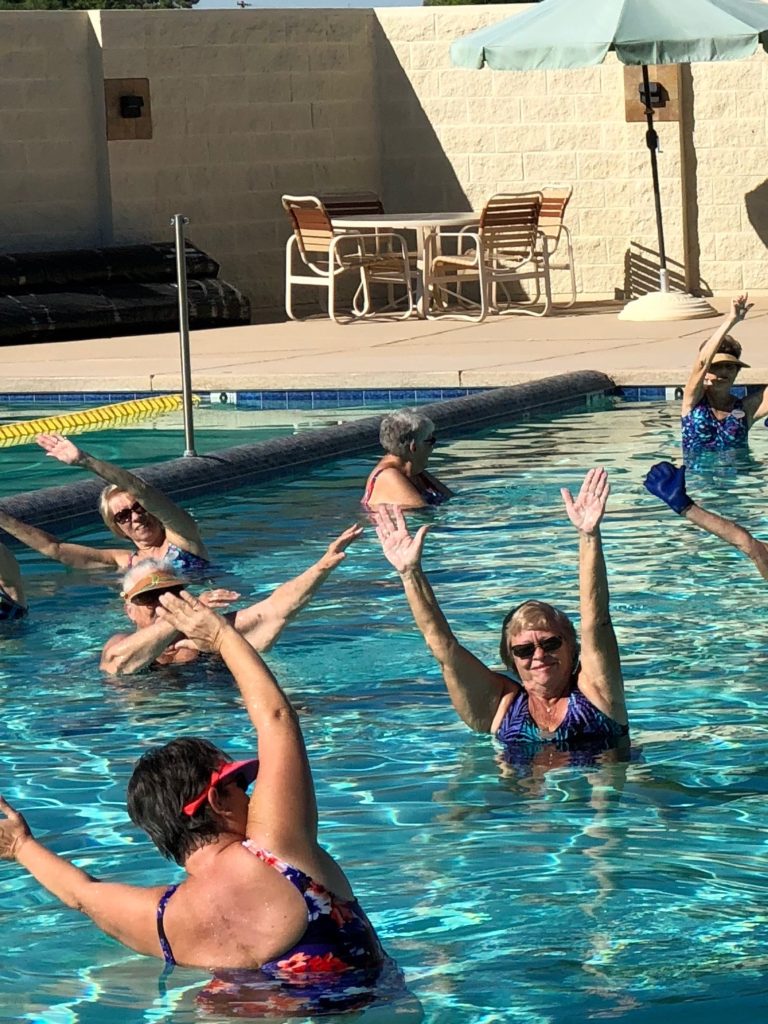 To meet requirements established by the CDC, State of AZ and RCSC for re-opening of Sun City, the Aqua Fitness Club will not have a 2020 Winter Session.  Timing of the start of Club activity and opening of classes during 2021 has yet to be determined.
What is the Aqua Fitness Club?
Water exercise done to music. Aerobic, balance improvement and muscle stretching.
The club was founded to encourage residents to exercise, providing a gentler environment using the pool.   You DO NOT need to know how to swim.  The movements are performed in waist to chest deep water, done to music and verbal instruction, which tell the movements to be done. The class lasts for 50 minutes. The first 30 minutes is aerobic, followed by strengthening exercises. An Instructor and Helpers are available at all classes to assist or answer any questions.
The membership fee is $5 per year.  Class fee is $15 for each class, held twice a week for an 8-week session.  There are 5 sessions held each year.  Registration is required before each session starts. Members must be a current RCSC card holder in good standing.
Classes are available at 5 pools
Classes are held at designated recreation center pools (Sundial Large, Sundial Therapeutic, Oakmont, Marinette and Mountain View) and will vary throughout the year. All the exercises are done in a freestanding position in waist to chest deep water, either in place or moving in the pool.  Some require good stability. Sculling is taught to aid in balance.
A stretch and tone class is available for those with limited mobility or cannot do an aerobic exercise class.
Class Registration:
Class Registration for the upcoming Session is usually held at the end of the 7th week of the 8 week session.  RCSC card and Club Membership card is required to register for a class.
Next Try It Before You Buy It Week (TIBYBI)!
When scheduled, TIBYBI is the week prior to the next Registration to give non-members the opportunity to try the exercises.  Must present RCSC Card (with photo). No TIBYBI is currently scheduled.
Schedule of classes for 2021
Schedule of classes has been approved by RCSC.  But the Club is currently not open and classes will not be held until such time when the Club can open, meeting all requirements set by RCSC.
Category: Fitness
Location: Sundial Recreation Center
Club Website: www.aquafitnesssuncity.com (currently under repair)
Sun City Aqua Fitness Club
Important Dates
Will be published once the Club is approved to open.