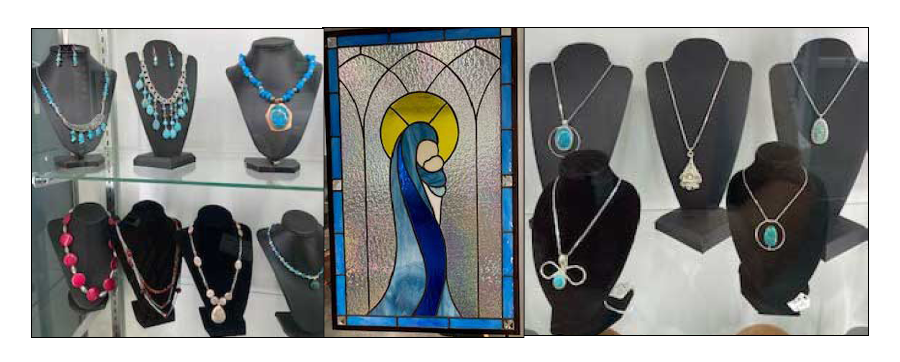 Jewelry, Stained Glass & More (formerly Jewelry @ Oakmont)  was Sun City's very first club, where members design custom jewelry in Sterling Silver and other metals with semiprecious stones.
Classes & Training Offered
Recently, we added classes in Stained Glass along with Glass Fusion.  We will show you how to cut glass, foil and solder into some very impressive projects.  These two additions enhance our original classes, Lapidary, Silver Smith, Faceting, Beading. Members projects are displayed in our show room for sale.
All training courses offered by the club for the various crafts includes a start-up kit (equipment and/or raw materials needed for craft items); a minimum of three classroom instruction (instructor fees); and a certificate upon completion of the course. Classes are scheduled when a person expresses interest in a class and are dependent upon the availability of the instructor and student.
Category: Arts & Crafts
Location: Grand Center
Club Contact: John Schmidt, Club President – 623-322-4595 or 262-993-4873
Meetings, Club Room Hours & Classes: 
Club meetings (for official business) are the first Tuesday of each month at 9am
Winter Hours (October through April)
Monday – Friday 8am-2pm
Stained Glass: Monday, Wednesday, Thursday – 4 to 8pm by appointment
Summer Hours  (May through September)
Wednesday-Saturday 8am to 12pm
Classes available include:
Silver Craft, Lapidary, Faceting, Wire Wrapping, Beading, Stained Glass and Glass Fusion
For class information, stop by the club or contact:
John Schmidt (623-322-4595) or
Doris Beland (480-619-0817)
Fees: 
Membership Fee (annual)  – $10;
Class (instructor) fee – $25 (3 classes) plus club membership fee
Locker fee – $3 (depends on availability of lockers)