Palo Verde Artists welcomes both professionals and amateurs wishing to explore their creativity using a wide variety of media and encourages all styles of artwork. Palo Verde Artists supports the annual All Sun City Fine Art Show each February, and the club also hosts a yearly art show and sale for the public in March or April. Participation in the Annual Sun City Arts and Crafts Festival and the Discover Sun City AZ events help us to attract new members while showcasing many of our members' talents. Club members also have many opportunities to take classes and workshops (see below) to improve their art work.
How do I join?
Current RCSC Cardholders may join and pay membership fees through our website at paloverdeartists.com or on the computer in the Palo Verde Art Room on the upper level at Sundial Recreation Center or at our Monthly Gathering usually held on the first Monday of the month (details below). Annual dues are $10 which entitles you to participate in our many member opportunities to improve, show and sell your paintings and mixed media pieces.
Category: Arts & Crafts
Location: Sundial Center
Club Contact: Mary Stewart, President (503-635-7121), Email: president@paloverdeartists.com 
Club Website: http://paloverdeartists.com/
Gatherings & Classes
First Monday of the Month (Oct-May): Monthly Gathering and Artist Demo, 12 noon in the East Auditorium at Sundial (103rd Ave & Boswell). Opportunity to join club, volunteer and sign up for classes and workshops. Gatherings include social time, information  sharing and frequently an artist demonstration.
Third Monday of the Month: 1 to 3 PM, Critique/Video. Members bring their latest work in progress to the art room to share friendly critique and suggestions; then watch an instructive video together. No instructor.
Tuesdays: Open Painting. Join other members in the art room from 9 AM to 12 Noon to work on your respective art projects.
Thursdays: 1 to 3:30 PM year round, Portraits. No instructor, live model. $3 fee for model.
Times may be adjusted. Please check our website calendar for exact times at paloverdeartists.com/calendar.
Classes & Workshops (open to members only)
Spring, Fall and Winter classes generally include instruction in oil, acrylics, watercolor, colored pencil, drawing and pastels. In addition, we hold workshops in abstract painting, matting, batik painting and more. Visit the art room at Sundial Recreation Center or attend our meetings for more details. Classes and workshops require a fee unless stated differently. RCSC Cardholders can join, register for classes and make payments on the club website at paloverdeartists.com/.
Reflections – Palo Verde's Newsletter
Our newsletter, 'Reflections' is emailed to members and a few printed copies are available at our meetings, the first Monday of each month from October to May at 12 noon in the East Auditorium at Sundial Recreation Center. Current RCSC Cardholders are welcome to visit one of our meetings before joining. You will find us to be a friendly, supportive group of artists from beginners to professionals.
Palo Verde Art Gallery
We have an ever-changing gallery of paintings for sale in our gallery inside the art room and in the hall outside our door, upper level, Sundial Recreation Center. The public is welcome to view and purchase art for sale.
---
Palo Verde Artists Enjoy "Paint Day"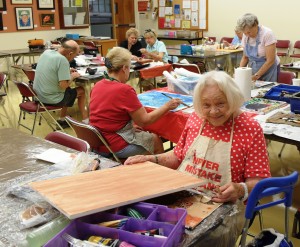 by Marion Wishnefski
Sun City Palo Verde Artists members beat the heat last summer while enjoying Paint Day –  a day of art, fun and socialization at their Sundial center club room. Everyone brought their favorite painting materials to create new masterpieces. Some worked with acrylic, oil, pastel, or watercolor; some did rosemaling, one-stroke painting or batik.  Members shared ideas, methods and techniques. Joanne MacVey was the creator and coordinator of this particular event.
The idea for this event came to Joanne one day while she was walking in the Sundial pool.  Seeing that the club art room was dark she thought the room could be used by more members, even in the summer when our winter visitors are away. Those in attendance included: Joanne MacVey, Marilyn Franzen, Bella Romain, Peggy Juneau, Kelly Abraham, Charlene Stark, Richard Hoffman, Mary McFadden, Janice Lydon Rowe, Yvonne Lougnot, Susie Soucy, Judy Pate, Marion Wishnefski, and Linda Stahl. "Paint Day was fun and productive", said Ms. Frazen, a one-stroke painter. "I came to meet the artists and enjoy the day".  "It was great to get to know other club members and socialize," added Ms. Abraham, who worked on pastel and batik paintings.  All in all, it turned out to be an event worth repeating. Thank you, Joanne.