The VINTAGE VEHICLES OF SUN CITY Club vision is to provide a world class venue for Recreation Centers of Sun City Cardholders who have an interest in the restoration, repair or maintenance of cars, trucks and other mechanical projects. Since its formation in 2015, the Vintage Vehicles Club has strove to provide a friendly, clean and safe working and learning environment for its members, adding another unique world class amenity for Sun City AZ.
In addition to the above projects, the Club conducts social and charitable activities such as car shows, cruises, picnics, and fund raisers. The Vintage Vehicles of Sun City Club provides another incentive for people to consider Sun City AZ for retirement.
Category: Hobby
Meeting Location: 3rd Tuesday in Lakeview Social Hall # 2, 1-3pm. We also meet every Tuesday morning for breakfast at Mercer's (on Peoria Ave) or Thursdays at George's Lakeview Cafe starting at 7am. We also have a weekly car cruise-in at McDonald's on Bell Road every Wednesday starting at 4pm. Please see our website for the latest event information.
Shop Location:  13430 N. 105th Ave. Bldg #17, Phone 623-215-8312
Club Contacts:
Les Litzenberger – President (509-430-1625)
Richard Holcomb – 1st Vice President (623-815-9274)
Troy Janicki – 2nd Vice President (480-277-6910)
Lynn Cummings – Recording Secretary (231-633-2872)
Roxie Whitney – Treasurer (623-875-7413)
Stephen Fehn – Facilities/Shop Director (503-799-1381)
____________ – Annual Card Show Director
____________ – Events Director
Alan Lund – Membership Director (248-496-9844)
Ed Gordon – Public Relations Director (720-447-4045)
Glen Mester – Procedures Director (217-415-9326)
Club Email: vvsuncity@outlook.com
Club Website: http://vintagevehiclesofsuncity.com
Annual Dues: $25 for first member of Household, $10 for second member
Membership Meetings: 1-3pm on the 3rd Tuesday of each month from October thru May at the Lakeview Recreation Center Social Hall #2
Upcoming Events & Happenings: Please see our website for the latest information
Past Events:
Cruise-In on April 7, 2015 at the Valley View Food Bank. We were able to make a nice contribution to this organization and Food Bank Manager Jesse Ramirez has invited us back next season for another food drive!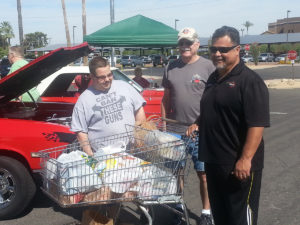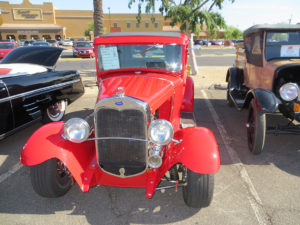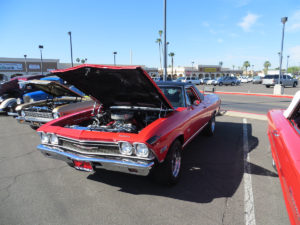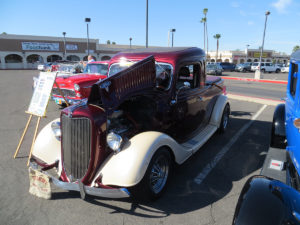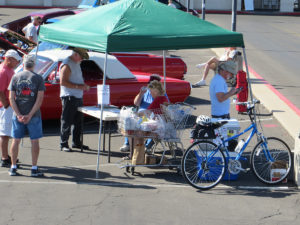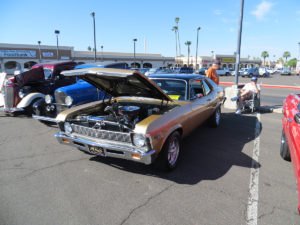 Cruise-In March 28, 2015 at Bell Recreation Center benefitted the Sun City Foundation.