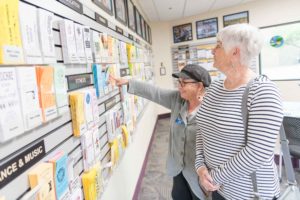 Sign up for the Sun City AZ Experience and discover the value and vitality of The Original FUN City!
The Sun City AZ Experience is provided several times per month for current, new, and prospective Sun City AZ residents depending on the availability of Sun City AZ Visitors Center volunteers. The 90-minute Experience presentation begins with a guided walking tour of Bell Recreation Center, the largest Recreation Centers of Sun City, Inc. (RCSC) recreation center in Sun City AZ.  Learn about what living Sun City AZ has to offer including seven state-of-the art recreation centers and eight meticulously maintained golf courses, amazing entertainment and events, community lakes, the Sun Bowl open-air amphitheater, and 130+ clubs all available to RCSC Cardholders.  You will also learn some Sun City AZ history and about neighborhood shopping centers and other vital community organizations. Our knowledgeable and entertaining Experience volunteers will be happy to answer your questions about Sun City AZ topics.

Please complete and submit the form below to request a reservation for a specific date and time. Reservation confirmations are sent via email within 48 hours. If you have not received confirmation of your reservation, you'd like to speak to a volunteer regarding scheduling a Sun City AZ Experience, or you need to cancel a previously scheduled reservation, please contact the Sun City AZ Visitors Center at 623-977-5000 or toll free at 1-844-4 SUN CITY and choose option 3. If a Sun City AZ Experience is not available on a day you will be visiting, you don't have to miss out.  All Sun City AZ Visitors Center volunteers are happy to acquaint you with our fantastic community – just stop by and see us at your convenience! 
Sun City Visitors Center Hours of Operation:  Monday – Friday 8:30am-4:00pm and Saturdays 8:30am-12:00pm (open on Saturdays October – May only).
A specific Sun City AZ Experience date may be cancelled at the discretion of the Sun City AZ Visitors Center with notification via email or telephone if you are registered. Please note – this is not a bus tour.  Soliciting is strictly prohibited at the Sun City AZ Visitors Center. 
We sure hope to see you soon to explore all that Sun City AZ has to offer!
 Please meet at the Sun City AZ Visitors Center at Bell Center (99th Ave south of Bell Rd)
---