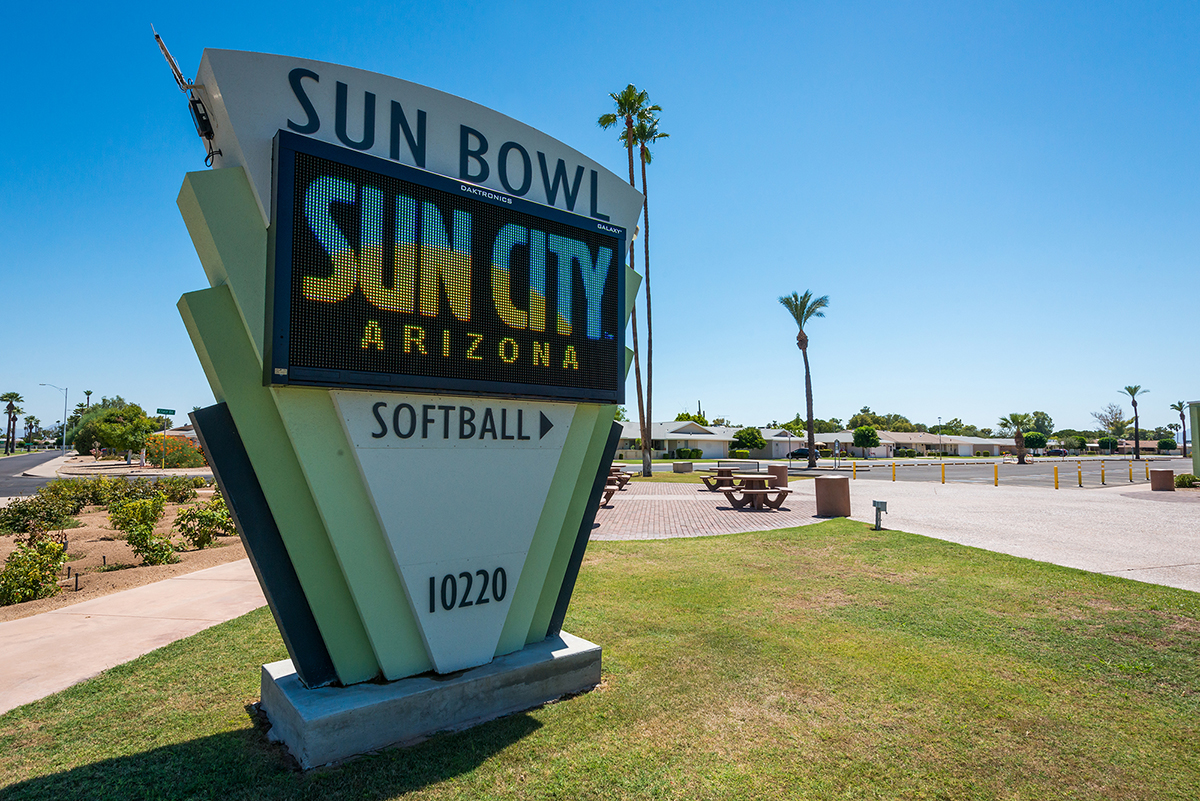 Sundial Auditorium and the Sun Bowl are the venues for a variety of concerts throughout the year. From local favorites to national treasures, RCSC Cardholders and their escorted guests are sure to be entertained all year round! RCSC is proud to present these Sun City Attractions that you've just got to see to believe!
Be prepared to show your RCSC Member or Privilege Card with photo (no key fobs accepted) to gain access to all free RCSC Events & Concerts.
Sunday Nights at The Sun Bowl
Sun Bowl Shows are free to RCSC Cardholders and their escorted guests. Please be prepared to show your RCSC Member or Privilege Card (with photo) in order to obtain admittance; no key fobs accepted. Bring your own lawn chair or blanket to the Sun Bowl Concerts. Please note that early reservation of seating space is not allowed and that chairs nearest the stage are reserved for those individuals arriving by buses only. Smoking is only permitted in the parking lot around the Sun Bowl. In the event of inclement weather, shows are moved to Sundial Auditorium, 103rd Avenue and Boswell Boulevard. For a recorded message regarding venue change, call 623-972-6014.
** Gourmet food vendors arrive 1-1/2 hours prior to all Sun Bowl shows! **
Turn the Page – Bob Seger Tribute
Sunday, March 12 at 6pm
Get ready for some great rock & roll as we kick off the 2017 Spring Sun Bowl Concert Series when Sam Morrison takes to the stage in this tribute to Bob Seger & The Silver Bullet Band. One of the nation's top tribute bands (CNBC News), we're sure there will be all of the "Night Moves" and lots of "Old Time Rock and Roll" as you experience memories of these beloved hits.
Tonight's The Night – Rod Stewart Tribute
Sunday, March 19 at 6pm
Sun City AZ welcomes back this incredible dead-on Rod Stewart tribute artist Rob Caudill. Complete with soccer balls into the crowd and flamboyant dress, Caudill has the voice, look and mannerisms of Stewart throughout his career down pat. As the legendary Joe Walsh of The Eagle fame was quoted as saying, "Rob is Rod! This is one that will make you do a double take.  He is that good." Check it out!
Eric Clapton Experience
Sunday, March 26 at 6pm
The Eric Clapton Experience is the ultimate tribute to 19 time Grammy winning Blues/Rock Artist Eric Clapton, who has been inducted into the Rock & Roll Hall of Fame three times – the most of any artist! This band honors this legendary artist with seasoned musicians coming together to form a real Rocking/Blues Eric Clapton experience. "Wonderful Tonight" will be an understatement by the end of this show!
Doobie Brothers Tribute
Sunday, April 2 at 6:30pm
This show promises to take you right back to those sweet summer nights (or great springtime Arizona evenings) with the music of a band like no other – The Doobie Brothers! You'll be "Rockin' Down the Highway" with over 40 years of hits that could only come from the Doobie's unique sound – an infectious combination of rock, country, R&B, jazz and folk/Americana.
Mogollon
Sunday, April 9 at 6:30pm
Mogollon, (pronounced Mug-e-on) began in the small Northeastern Arizona town of Overgaard. The name of the band is derived from the "Mogollon Rim." Playing music was a good way for a few high school buddies to impress the girls and to combat the boredom of a small town. After a few performances, people agreed this "hobby" of theirs had potential – and they were right! Today, Mogollon has earned the reputation as one of the Premier Country Rock Entertainment groups in the West. Their performances are truly amazing – playing just about anything, from Hank Williams to Pink Floyd to their own original songs. This should be an evening of Arizona home-grown fun.
Savor – Santana Tribute
Sunday, April 16 at 6:30pm
Savor was formed to honor the 40-year career of Latin-rock legend Carlos Santana – from the raw power of the self-titled album issued in 1969 to the recent spate of hits with current stars that makes Santana's music so well-loved. These consummate musicians churn out hits like Oye Como Va, Black Magic Woman, Evil Ways, and more. You'll close your eyes and think you're listening to your favorite Santana album. Do not miss this band!
The Hamptons
Sunday, April 23 at 6:30pm
Another encore Sun City AZ performance as we welcome back The Hamptons! From today's hits to the oldies everyone knows by heart, the dance floor in front of the Sun Bowl stage will be standing room only, for sure!
Jumping Jack Flash – Rolling Stones Tribute
Sunday, April 30 at 6:30pm
"Let's Spend the Night Together" at the Sun Bowl with this repeat performance which promises all of the high energy antics and super stage presence in this great tribute to who many say are the rock & roll icons of music history – The Rolling Stones.
Doo-Wah Riders
Sunday, May 7 at 7pm
We'll end the Spring 2017 Sun Bowl concert series with a little bit 'o country as the Doo-Wah Riders come back to Sun City AZ for this final show of the season. Possessing the rare combination of many years' experience and youthful drive, this band defines their sounds as "high energy country with a Cajun twist." Tight musicianship and powerful arrangements of both classic and original songs make them favorites where ever they go! Ooo-eeee!!
Sundial Concerts
Sundial Shows are normally ticketed shows held in the Sundial Auditorium. Tickets can be purchased at the Lakeview Club Office and all ticketed Sundial shows are open to both RCSC Cardholders & non-cardholders.  RCSC is pleased to announce that we will continue to have reserved seating for all ticketed Sundial concerts in 2017! With video projection screens, you're guarantee that every seat in the house is a great seat. Tickets are also available at the Sundial Box Office one hour prior to each show. Doors open at 6:00pm and shows begin at 7:00pm.  Please arrive with adequate time to be seated prior to show time. The Lakeview Clubs Office also takes phone reservations for ticketed shows with credit card only (Visa, MasterCard and Discover) by calling 623-561-4660. The Clubs Office is open Monday-Friday from 8:30 am-4:00 pm. Please note that all free shows in the Sundial Auditorium will continue to be general admission and are intended for RCSC Cardholders and their escorted guests only!
PLEASE NOTE: FM Transmission is now available at 99.1 FM for ALL concerts! Please remember to bring your own device & headphones so as not to disturb others attending.
---
Winter/Spring Concerts at Sundial – All seats reserved!
Experience a wonderful evening of great entertainment shared with good friends at an unbelievable price. Season Tickets for the 2018 Winter/Spring Sundial Concert Series will be available for purchase by RCSC Cardholders only beginning on November 1, 2017 for the unbelievable price of $154 – that's only $14 per show. Individual concert tickets will be available for purchase by RCSC Cardholders only  beginning on December 1, 2017. Ticket sales to non-Cardholders for the 2018 Winter/Spring Concert Series will begin January 2, 2018 (depending upon availability). All shows are at 7:00pm and doors open at 6:00pm. Gourmet food vendors will no longer accompany Sundial shows; please feel free to bring your own beverages and/or snacks if you prefer. New video screens in the Sundial Auditorium guarantee that every seat in the house is now a great seat!
Season tickets for all 2018 concerts at the Sundial Auditorium will go on sale at the Lakeview Clubs Office to RCSC Cardholders (limit one per card) only beginning on November 1 through November 30, 2017. Ticket sales for individual shows can be purchased by RCSC Cardholders beginning on December 1, 2017; non-cardholders may purchase tickets beginning January 2, 2018 (depending upon availability).
Season Tickets – $154 (that's only $14 per show)
Individual Show Tickets – $17pp for RCSC Cardholders/$20 for non-RCSC Cardholders
View the Sundial Seating Chart (for reference only)
 ** NOTE: All ticket sales are final; no refunds. Season tickets are transferrable should you be unable to attend every show.
Sundial Summer Concerts – Free for RCSC Cardholders & their escorted guests only!
Rollie Stevens  – POSTPONED!  Rollie has been re-scheduled to appear at the Sun Bowl on Sunday, November 7, 2017. We apologize for this change.
Wednesday, June 7, 2017 @ 7pm; Doors open at 6pm
Sun City AZ welcomes back this prolific songwriter & Phoenix firefighter for a great summer evening of cool, country entertainment indoors at the Sundial. Rollie Stevens writes & sings about the West that he truly loves. As a youngster, he was greatly influenced by the songs of Marty Robbins, the king of Western ballads. Even though Rollie has now developed his own smooth singing style, he has often been compared to this legendary performer. Rollie has won both Best New Male Vocalist award & Songwriter of the Year award from the Arizona Country Music Association for his song "Middle of a Heartache," co-written by Rose Diehl. Rollie can impersonate almost any singer. Engelbert, Tom Jones, Dean Martin, Merle Haggard, Walter Brennen, and on and on "you never know what's coming out of me. I don't." And neither do we! Come & find out!
Big Iron Band featuring Chris Campbell – Marty Robbins Tribute
Wednesday, June 7, 2017 @ 7pm; Doors open at 6pm
Sun City AZ wishes a big howdy welcome to The "Big Iron Band" who has been performing this Marty Robbins Tribute around Arizona for more than a decade. The band consists of several local area musicians, some who have bands of their own. The primary objective of the "Big Iron Band" is to keep the Marty Robbin's music and memory alive for future generations. As grand pappy would say "Son, you don't hear the good stuff on the radio anymore."
Marty Robbins was the "good stuff!" Join us for a cool evening of entertainment.
Jim Westover & The Promised Land Band – Elvis from Hawaii Tribute
Wednesday, July 19, 2017 @ 7pm; Doors open at 6pm
You'll be all shook up and dreaming of tropical breezes when Jim Westover brings to the Sundial stage his great Elvis from Hawaii tribute show. Need we say any more?
---
RCSC is will once again bring great entertainment to the Sun Bowl in 2017! All Sun Bowl Shows are FREE for RCSC Cardholders and their escorted guests only! Please be prepared to show your RCSC Member or Privilege Card (with photo) for admittance to free RCSC concerts (no key fobs accepted). Your cooperation and understanding is greatly appreciated! Looking forward to seeing you at the Bowl! We'll have the complete listing of shows for the 2017 Spring series online soon. Stay tuned.