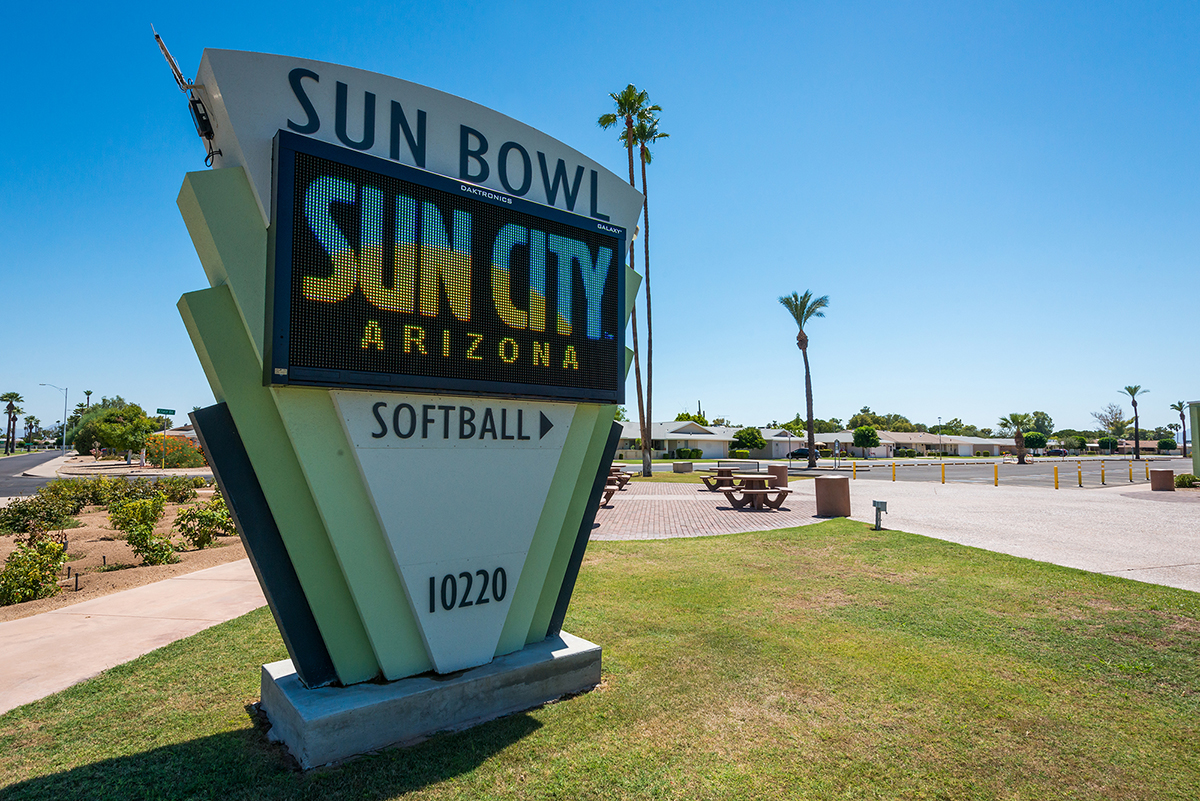 Sundial Auditorium and the Sun Bowl are the venues for a variety of concerts throughout the year. From local favorites to national treasures, RCSC Cardholders and their escorted guests are sure to be entertained all year round! RCSC is proud to present these Sun City Attractions that you've just got to see to believe!
Be prepared to show your RCSC Member or Privilege Card with photo (no key fobs accepted) to gain access to all free RCSC Events & Concerts.
Sunday Nights at The Sun Bowl
Sun Bowl Shows are free to RCSC Cardholders and their escorted guests. Please be prepared to show your RCSC Member or Privilege Card (with photo) in order to obtain admittance; no key fobs accepted. Bring your own lawn chair or blanket to the Sun Bowl Concerts. Please note that early reservation of seating space is not allowed and that chairs nearest the stage are reserved for those individuals arriving by buses only. Smoking is only permitted in the parking lot around the Sun Bowl. In the event of inclement weather, shows are moved to Sundial Auditorium, 103rd Avenue and Boswell Boulevard. For a recorded message regarding venue change, call 623-972-6014.
** Gourmet food vendors arrive 1-1/2 hours prior to all Sun Bowl shows! **
Turn the Page – Bob Seger Tribute
Sunday, March 12 at 6pm
Get ready for some great rock & roll as we kick off the 2017 Spring Sun Bowl Concert Series when Sam Morrison takes to the stage in this tribute to Bob Seger & The Silver Bullet Band. One of the nation's top tribute bands (CNBC News), we're sure there will be all of the "Night Moves" and lots of "Old Time Rock and Roll" as you experience memories of these beloved hits.
Tonight's The Night – Rod Stewart Tribute
Sunday, March 19 at 6pm
Sun City AZ welcomes back this incredible dead-on Rod Stewart tribute artist Rob Caudill. Complete with soccer balls into the crowd and flamboyant dress, Caudill has the voice, look and mannerisms of Stewart throughout his career down pat. As the legendary Joe Walsh of The Eagle fame was quoted as saying, "Rob is Rod! This is one that will make you do a double take.  He is that good." Check it out!
Eric Clapton Experience
Sunday, March 26 at 6pm
The Eric Clapton Experience is the ultimate tribute to 19 time Grammy winning Blues/Rock Artist Eric Clapton, who has been inducted into the Rock & Roll Hall of Fame three times – the most of any artist! This band honors this legendary artist with seasoned musicians coming together to form a real Rocking/Blues Eric Clapton experience. "Wonderful Tonight" will be an understatement by the end of this show!
Doobie Brothers Tribute
Sunday, April 2 at 6:30pm
This show promises to take you right back to those sweet summer nights (or great springtime Arizona evenings) with the music of a band like no other – The Doobie Brothers! You'll be "Rockin' Down the Highway" with over 40 years of hits that could only come from the Doobie's unique sound – an infectious combination of rock, country, R&B, jazz and folk/Americana.
Mogollon
Sunday, April 9 at 6:30pm
Mogollon, (pronounced Mug-e-on) began in the small Northeastern Arizona town of Overgaard. The name of the band is derived from the "Mogollon Rim." Playing music was a good way for a few high school buddies to impress the girls and to combat the boredom of a small town. After a few performances, people agreed this "hobby" of theirs had potential – and they were right! Today, Mogollon has earned the reputation as one of the Premier Country Rock Entertainment groups in the West. Their performances are truly amazing – playing just about anything, from Hank Williams to Pink Floyd to their own original songs. This should be an evening of Arizona home-grown fun.
Savor – Santana Tribute
Sunday, April 16 at 6:30pm
Savor was formed to honor the 40-year career of Latin-rock legend Carlos Santana – from the raw power of the self-titled album issued in 1969 to the recent spate of hits with current stars that makes Santana's music so well-loved. These consummate musicians churn out hits like Oye Como Va, Black Magic Woman, Evil Ways, and more. You'll close your eyes and think you're listening to your favorite Santana album. Do not miss this band!
The Hamptons
Sunday, April 23 at 6:30pm
Another encore Sun City AZ performance as we welcome back The Hamptons! From today's hits to the oldies everyone knows by heart, the dance floor in front of the Sun Bowl stage will be standing room only, for sure!
Jumping Jack Flash – Rolling Stones Tribute
Sunday, April 30 at 6:30pm
"Let's Spend the Night Together" at the Sun Bowl with this repeat performance which promises all of the high energy antics and super stage presence in this great tribute to who many say are the rock & roll icons of music history – The Rolling Stones.
Doo-Wah Riders
Sunday, May 7 at 7pm
We'll end the Spring 2017 Sun Bowl concert series with a little bit 'o country as the Doo-Wah Riders come back to Sun City AZ for this final show of the season. Possessing the rare combination of many years' experience and youthful drive, this band defines their sounds as "high energy country with a Cajun twist." Tight musicianship and powerful arrangements of both classic and original songs make them favorites where ever they go! Ooo-eeee!!
Sundial Concerts
Sundial Shows are normally ticketed shows held in the Sundial Auditorium. Tickets can be purchased at the Lakeview Club Office and all ticketed Sundial shows are open to both RCSC Cardholders & non-cardholders.  RCSC is pleased to announce that we will continue to have reserved seating for all ticketed Sundial concerts in 2017! With video projection screens, you're guarantee that every seat in the house is a great seat. Tickets are also available at the Sundial Box Office one hour prior to each show. Doors open at 6:00pm and shows begin at 7:00pm.  Please arrive with adequate time to be seated prior to show time. The Lakeview Clubs Office also takes phone reservations for ticketed shows with credit card only (Visa, MasterCard and Discover) by calling 623-561-4660. The Clubs Office is open Monday-Friday from 8:30 am-4:00 pm. Please note that all free shows in the Sundial Auditorium will continue to be general admission and are intended for RCSC Cardholders and their escorted guests only!
PLEASE NOTE: FM Transmission is now available at 99.1 FM for ALL concerts! Please remember to bring your own device & headphones so as not to disturb others attending.
---
2017 Winter/Spring Concerts – All seats reserved!
Experience a wonderful evening of great entertainment shared with good friends at an unbelievable price. Season Tickets for the 2017 Winter/Spring Sundial Concert Series will be available for purchase by RCSC Cardholders only beginning on November 1, 2016 for the unbelievable price of $154 – that's only $14 per show. Individual concert tickets will be available for purchase by RCSC Cardholders only  beginning on December 1, 2016. Ticket sales to non-Cardholders for the 2017 Winter/Spring Concert Series will begin January 3, 2017 (depending upon availability). All shows are at 7:00pm and doors open at 6:00pm. Gourmet food vendors will no longer accompany Sundial shows; please feel free to bring your own beverages and/or snacks if you prefer. New video screens in the Sundial Auditorium guarantee that every seat in the house is now a great seat!
Season tickets for all 2017 concerts at the Sundial Auditorium will go on sale at the Lakeview Clubs Office to RCSC Cardholders (limit one per card) only beginning on November 1 through November 30, 2016. Ticket sales for individual shows can be purchased by RCSC Cardholders beginning on December 1, 2016; non-cardholders may purchase tickets beginning January 2, 2017 (depending upon availability).
Season Tickets – $154 (that's only $14 per show)
Individual Show Tickets – $17pp for RCSC Cardholders/$20 for non-RCSC Cardholders
View the Sundial Seating Chart (for reference only)
Click here to view the PDF flyer about the 2017 Sundial Concert Series Ticket Sales.
You'll have your choice of either theater seating or cabaret-style tables. Tickets may be purchased in the Lakeview Clubs Office, Monday through Friday from 8:30am to 4pm or by calling 623-561-4660 to speak with a Clubs & Activities Agent (no voice mail or email orders will be processed).
Journey Unauthorized
Wednesday, January 11, 2017 at 7pm
Absolute Journey performs to the highest level of musicianship with outstanding vocals as sung by Riccardo Curzi. His vocal talents are one of the closest things you will ever hear compared to Steve Perry.  Along with the bands amazing sound and backing vocals this show is sure to captivate you with this exciting and energetic performance.
Some of the hits of Journey are: Don't Stop Believin, Faithfully, Open Arms, Any Way You Want it, Who's Crying Now, When You Love a Woman and many more.
Righteous Brothers Tribute – SOLD OUT!
Wednesday, January 25, 2017 at 7pm
When Bill Medley and Bobby Hatfield (the real Righteous Brothers) came to the Imperial Palace in 1995 to see Gene Sironen and Doug Masters do their Tribute to the "Blue-eyed Soul Duo," not only were they thoroughly entertained, they were thoroughly impressed with the response the on-stage duo received. Bill Medley was quoted as saying, "I wish we got that kind of applause."  He also remarked, "I feel like we finally made it."  Sadly, Doug Masters passed in 2007.  After 8 long years, Sironen finally found a new partner, Larry G. Jones, whose has the vocal range and look of Bobby Hatfield.  Together, Sironen and Jones recreate the magic of The Righteous Brothers.
Some of the hits of the Righteous Brothers are: Unchained Melody, You've Lost that Lovin Feeling, Soul and Inspiration, Rock and Roll Heaven, Little Latin Lupe Lu to name a few.
Strait Country – George Strait Tribute
Wednesday, February 1, 2017 at 7pm 
George Strait has more Number One Hits than any artist in music history – with 60 and counting! The fabulous "Strait Country Band" featuring Keven Sterner brings you the virtual experience of actually attending one of George's concerts as steel guitar and fiddle fill the air.
Some of the hits of George Strait are: Amarillo by Morning, Carrying Your Love with Me, Write This Down. All My Ex's Live in Texas, Ocean Front Property, I Cross my Heart. You Look so Good in Love, Troubadour, Baby Blue, Love Without End – Amen and many more.
The "Original" Grass Roots
Wednesday, February 8, 2017 at 7pm
The Original Grass Roots have sold over twenty million records worldwide and hold the all-time attendance record for one act, the US concert of 600,000 people on July 4, 1982. They set the record for being on the Billboard charts for 307 STRAIGHT WEEKS' and have appeared on over 50 national television shows. Many of their hits are still in heavy rotation on oldies stations to this day.  They have achieved one platinum and two gold albums; thirteen gold singles and charted singles a total of twenty nine times.  After all that…they can now add to their biography that they have performed on the Sundial Stage in Sun City, AZ!   From Paradise Artists… How original are the Grass Roots you say?  Well, with Rob Grill being a member from 1967 through 1977, and Joel Larson being a member in 1966, then back again in 1972 through 1978, then Rob Grill back again from 1982 through 2006.  The longest members now are Joe Dougherty and Larry Nelson who have been members of the group since 1985.  Guess that's why it's called show business.
Some of the hits of The Grass Roots are: Midnight Confessions, Sooner or Later, Temptation Eyes, I'd Wait a Million Years, Baby Hold On, etc.
Fairchild Blues – Blues Brothers Tribute
Wednesday, February 15, 2017 at 7pm 
With over 32 years in the entertainment business, FAIRCHILD BLUES TRIBUTE has entertained political leaders, celebrities, US Military, major corporations, and general audiences of every age; and have toured nationally around the world. When these two men step on stage, their combined combustion of energy creates a show that sets them apart from any other tribute to THE BLUES BROTHERS!  With a good mix of raw comic talent and great music.
Some of the hits of the Blues Brothers are: Everybody Needs Somebody to Love, Soul Man, Gimme Some Lovin, Jailhouse Rock, Peter Gunn Theme, etc.
Yesterday – Beatles Tribute
Wednesday, February 22, 2017 at 7pm
There is no denying that everyone has a Beatles song attached to an event in their life. This band has performed around the world and on this evening you will be transported to a bygone era of magical innocence. Featuring some of the most finely written songs ever performed in the history of modern music. This is a show rich in memories, with superior showmanship, flawless voices and exceptional musical abilities. Directly from Las Vegas the most authentic re-creation of the Beatles touring today.
Some of the hits from the Beatles are: Hey Jude, Love Me Do, I Want to Hold Your Hand, Let It Be. Yellow Submarine, She Loves You, Eleanor Rigby, Revolution, Strawberry Fields Forever, Twist and Shout, I Am The Walrus, All You Need Is Love, Here Comes The Sun,  etc. Should I go on?
One of These Nights – Eagles Tribute – SOLD OUT!
Wednesday, March 1, 2017 at 7pm
One of These Nights promises exactly that….an unforgettable night featuring the music of the Eagles – one of the most successful rock bands of all time! One of These Nights will take you on a journey through all the Eagles' "sounds," from tasteful country rock complete with full harmonies, to hard rocking tunes that highlight this great band's extraordinary catalogue which has earned them seven #1 singles, six Grammys, five American Music Awards and six number one albums.
John Waxman and JD Madrid have teamed-up with fellow stellar musicians to create one of the best sounding Eagles' tribute bands touring today. Recognized for their uncanny accuracy to the original, One of These Nights is a pure and simple tribute to the Eagles.
Some of the hits from the Eagles are: Hotel California, Desperado, Tequila Sunrise, Life In The Fast Lane, Take It Easy, I Can't Tell You Why, Witchy Woman, New Kid In Town, Take It To The Limit, One Of These Nights, Lyin' Eyes…Whew! There's so many more.
Bee Gee's Gold
Wednesday, March 8, 2017 at 7pm
Independent recording artist John Acosta has performed in Bee Gees tributes all over the world.  His portrayal of lead singer Barry Gibb is with a zest for detail and like no other.  From the look to the falsetto voice, you will close your eyes and insist that it is really Barry.  With Daryl Borges as Robin and Jeff Celentano as Maurice, these three men recreate the Brothers Gibb with the look and the sound of the Bee Gees from the 60s to the late 70s.  Coming to Sun City AZ straight from Las Vegas!
Some of the hits from the Bee Gee's are: Too Much Heaven, I Started a Joke, You Should be Dancing, Stayin' Alive, How Deep is Your Love, Night Fever, More Than a Woman, How Can You Mend a Broken Heart, Tragedy, Words, To Love Somebody and the list goes on.
Bobby Brooks Wilson (Son of Legendary Motown Great Jackie Wilson)
Wednesday, March 15, 2017 at 7pm
Bobby Brooks Wilson is a talented entertainer who received high critical acclaim for his re-creation of the legendary Jackie Wilson – a stage persona he undertook long before learning that he was the rightful heir to the legacy. It wasn't until long after he had begun performing in his own right that Bobby realized the true source of his musical legacy –the talent flowed naturally because he was actually the son of Jackie Wilson. His life story is truly amazing. Musical history is once again going to be made – and rewritten. Every music lover in Sun City AZ will definitely want to catch this absolutely outstanding show. For more information about this talented performance, visit his Facebook page.
Tina Turner Tribute by Cookie Watkins
Wednesday, March 22, 2017 at 7pm
Cookie Watkins brings more than a celebrity impersonation to her performance in the award-winning live tribute show Legends in Concert. Music has been Cookie's mainstay since Duke Ellington brought her onstage to warble out a few tunes at the ripe age of fourteen. The Duke gave Cookie a coming-out party at the Rainbow Room when she turned eighteen. She even warranted a special mention in his book "Music Is My Mistress."
Always thought of as the little girl with the big woman's voice, Cookie studied opera and classical music before her out-of-the-box smash hit "Can't Judge a Book by Its Cover" brought her to the forefront of the dance movement. Soon she was lending her vocal expertise to such smash hits as Shades of Love's "Keep in Touch" (Body to Body).
Known to underground music fans as "Iron Throat," Cookie admits to being highly influenced by R&B legends like Aretha Franklin, Patti Labelle, Bobby Womack and the legend she so enthusiastically tributes, Tina Turner.
No stranger to Broadway, Cookie also performed in hit stage musicals like "Guys & Dolls," "Sweet Charity," and "Hair" before touring with the original cast of "Beehive" and Marie Wilson.
Cookie allows the audience to savor the saucy effects of Tina's "Higher" before a seamless transition to the throaty "Better Be Good to Me" followed by "What's Love Got To Do With It?" But Cookie and her audience know nothing tops the high-energy stand-up hit and closer "Proud Mary," and that is exactly what Cookie does Tina—"Proud!"
The Heart of Rock & Roll – Huey Lewis Tribute
Wednesday, Marcy 29, 2017 at 7pm
The Heart of Rock & Roll brings to life all the hits of the 80's super group Huey Lewis & the News.
The concept was born in late 2012 when brothers Tony & Roger Langdon, guitarist & front man respectively, for a variety cover band were performing their usual weekend shows.  For years the song The Heart of Rock & Roll was a set list staple mixed in among their band's other classic rock, pop and R&B songs.  One night, a show guest made the comment that Roger "kind of looks and sounds like Huey Lewis."
Tony suggested to Roger to go ahead and try a full blown Huey Lewis impersonation to see if there was something to that fan's comment.  After working out a few songs, it became clear that there was something special going on.  Roger brings the sound, image and style of Huey Lewis to life with such great detail that he has fooled more than a few fans.
Hits of Huey Lewis and the News are: The Power of Love, Heart and Soul, The Heart of Rock and Roll, Do You Believe in Love, Hip to be Square, If This is It, Back in Time and many more
 ** NOTE: All ticket sales are final; no refunds. Season tickets are transferrable should you be unable to attend every show.
---
RCSC is will once again bring great entertainment to the Sun Bowl in 2017! All Sun Bowl Shows are FREE for RCSC Cardholders and their escorted guests only! Please be prepared to show your RCSC Member or Privilege Card (with photo) for admittance to free RCSC concerts (no key fobs accepted). Your cooperation and understanding is greatly appreciated! Looking forward to seeing you at the Bowl! We'll have the complete listing of shows for the 2017 Spring series online soon. Stay tuned.