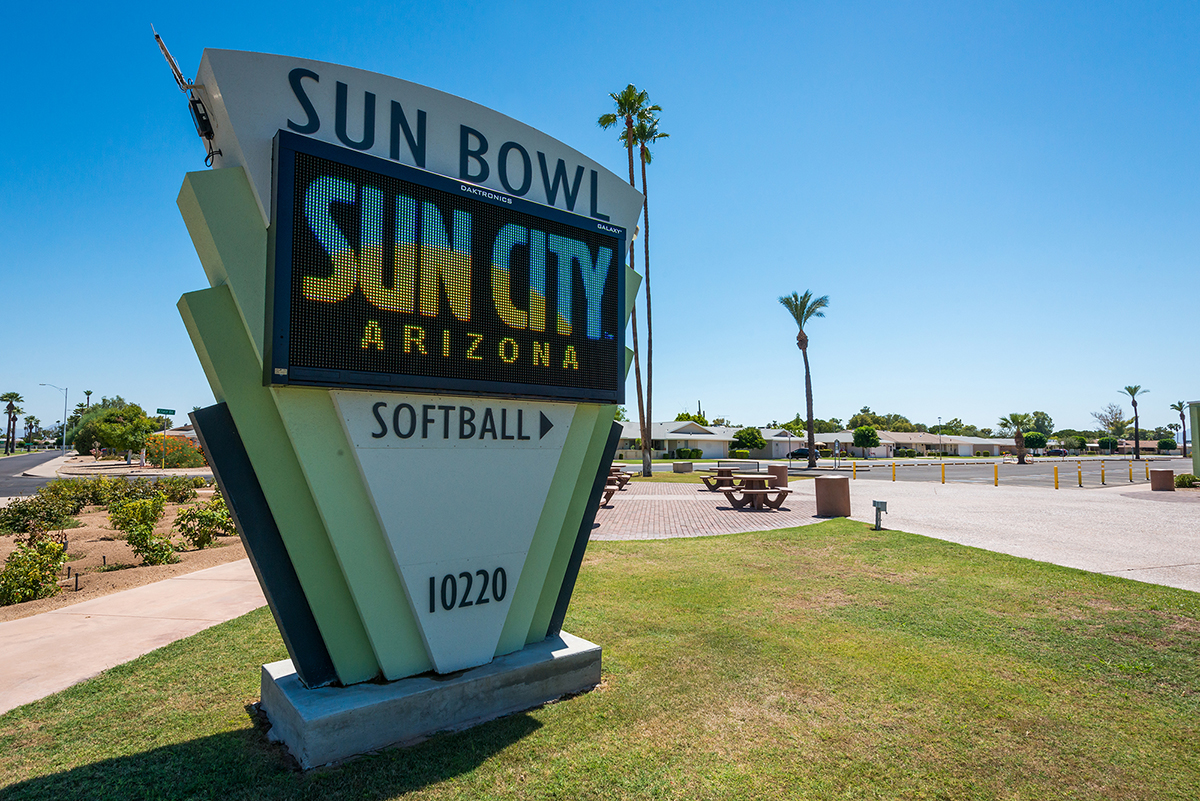 Sundial Auditorium and the Sun Bowl are the venues for a variety of concerts throughout the year. From local favorites to national treasures, RCSC Cardholders and their escorted guests are sure to be entertained all year round! RCSC is proud to present these Sun City Attractions that you've just got to see to believe!
Be prepared to show your RCSC Member or Privilege Card with photo (no key fobs accepted) to gain access to all free RCSC Events & Concerts.
Sunday Nights at The Sun Bowl
Sun Bowl Shows are free to RCSC Cardholders and their escorted guests. Please be prepared to show your RCSC Member or Privilege Card (with photo) in order to obtain admittance; no key fobs accepted. Bring your own lawn chair or blanket to the Sun Bowl Concerts. Please note that early reservation of seating space is not allowed and that chairs nearest the stage are reserved for those individuals arriving by buses only. Smoking is only permitted in the parking lot around the Sun Bowl.
In the event of inclement weather, shows are moved to Sundial Auditorium, 103rd Avenue and Boswell Boulevard. For a recorded message regarding venue change, call 623-972-6014.
** Gourmet food vendors arrive 1-1/2 hours prior to all Sun Bowl shows! **
Get ready for more great music when the Sun Bowl Shows return in this fall! All Sun Bowl Shows are FREE for RCSC Cardholders and their escorted guests  and your cooperation by presenting your RCSC Member or Privilege Card (with photo) for admittance at these shows is greatly appreciated. We look forward to seeing you at the Bowl this fall!
The 8 Track Dance Band
Sunday, September 24, 2017 @ 7pm
Sun City AZ kicks off the Fall Sun Bowl concert series with an encore performance by The 8-Tracks! Billed as the "greatest Oldies Rock 'n Roll band covering the entire state of Arizona, they promise to take us back in time to the 1950s and 1960s, singing and swinging the entire evening. Simply put – Oldies music…the way it was meant to be played!
That Kool Band
Sunday, October 1, 2017 @ 6:30pm
Arizona's favorite variety band, That Kool Band returns to Sun City with their awesome nostalgic tribute to the great rock and rolls stars from the 1950s and 60s. Things are sure to be hopping on the dance floor this evening!
Three Kings – Tribute to Buddy, Nelson & Elvis
Sunday, October 8, 2017 @ 6:30pm
You're in for a real treat when Rick Lenzi and Roustabout bring "The Three Kings" show to the Sun Bowl. This band of fantastic, awesome and entertaining musicians promise true-to-life renditions of the legendary rock 'n roll kings – Buddy Holly, Ricky Nelson and Elvis Presley. Everyone should plan on dancing to their favorite hits.
Dean Simmons is "The Garth Guy"
Sunday, October 15, 2017 @ 6:30pm
With the mannerisms and showmanship of super star Garth Brooks, Dean Simmons (aka The Garth Guy) takes the stage with the same energy and entertaining style of this award-winning phenomenon who changed country music forever with his unbelievable live shows. Slip on your cow boots and saddle on over to Sun Bowl for this sure-to-be-pleasing evening!
Graffiti Gold – Tommy Tayback & Daddy O's
Sunday, October 22, 2017 @ 6:30pm
If you're a fan of the Golden Oldies from the mid-50s to the mid-60s, you'll love this authentic blast from the past, recalling the good old days of Sock Hops and Soda Shops with Juke Boxes playing 45rpm
records. You'll take a trip down memory lane with tributes to rock 'n' roll legends like Elvis, Bill Haley, Chuck Berry, Jerry Lee Lewis, Ritchie Valens, The Big Bopper, Little Richard, Fats Domino, Dion and the Bellmonts, Sam the Sham and more. Times were never better and the music was never better. We guarantee you'll be saying "Remember When?" during this great show.
Jump, Jive & Wail – Swing Band
Sunday, October 29, 2017 @ 6:30pm
The Sun Bowl will be full of energy and excitement when Jump Jive & Wail comes to Sun City AZ directly from Vegas! Playing hits from a bygone era – including everything from the Jump-Blues all the way to retro swing hits from the1990s – along with a few original swing tunes, you'll be entertained all night with their super showmanship!
Southern Rock Explosion
Sunday, November 5, 2017 @ 6pm
The Sam Morrison Band returns to Sun City AZ with their "Southern Rock Explosion" show. Heavily influenced by Lynyrd Skynyrd, Allman Brothers and Charlie Daniels, this performance promises to bring back something that is lost on today's radio….real music played by real musician playing real songs on real instruments for real people. So let's plan on having a REAL good time!
Tribute to Our Veterans with Rollie Stevens
Sunday, November 12, 2017 @ 6pm
The singing Phoenix firefighter and gifted country singer promises a very special concert to honor the very special men and women who have proudly served our country. His unique mix of original tunes along with modern and traditional country is sure to be full of promise and patriotism. Please join us as we salute you!
*FREE* for RCSC Cardholders & their escorted
Sundial Concerts
Sundial Shows are normally ticketed shows held in the Sundial Auditorium. Tickets can be purchased at the Lakeview Club Office and all ticketed Sundial shows are open to both RCSC Cardholders & non-cardholders.  RCSC is pleased to announce that we will continue to have reserved seating for all ticketed Sundial concerts in 2018! With video projection screens, you're guarantee that every seat in the house is a great seat. Tickets are also available at the Sundial Box Office one hour prior to each show.
Doors open at 6:00pm and shows begin at 7:00pm.  Please arrive with adequate time to be seated prior to show time. The Lakeview Clubs Office also takes phone reservations for ticketed shows with credit card only (Visa, MasterCard and Discover) by calling 623-561-4660. The Clubs Office is open Monday-Friday from 8:30 am-4:00 pm. All free shows in the Sundial Auditorium will continue to be general admission and are intended for RCSC Cardholders and their escorted guests only!
PLEASE NOTE: FM Transmission is now available at 99.1 FM for ALL concerts! Please remember to bring your own device & headphones so as not to disturb others attending.
---
Winter/Spring Concerts at Sundial – All seats reserved!
Experience a wonderful evening of great entertainment shared with good friends at an unbelievable price!
Season Tickets for the 2018 Winter/Spring Sundial Concert Series will be available for purchase by RCSC Cardholders only beginning on November 1, 2017 (through November 30 only). Tickets for individual shows will be available for purchase by RCSC Cardholders only  beginning on December 1, 2017; non-RCSC cardholders may purchase tickets beginning January 2, 2018 (depending upon availability).
All shows are at 7:00pm and doors open at 6:00pm. Gourmet food vendors will no longer accompany Sundial shows; please feel free to bring your own beverages and/or snacks if you prefer. New video screens in the Sundial Auditorium guarantee that every seat in the house is now a great seat!
See the complete line-up for the 2018 Winter/Spring Series below!
Season Tickets – $154 (that's only $14 per show)
Individual Show Tickets – $17pp for RCSC Cardholders/$20 for non-RCSC Cardholders
 ** NOTE: All ticket sales are final; no refunds. Season tickets are transferrable should you be unable to attend every show.
One of The Nights – Eagles Tribute
Wednesday, January 10, 2018
One of These Nights promises exactly that… an unforgettable night featuring the music of the Eagles – one of the most successful rock bands of all time! One of These Nights will take you on a journey through all the Eagles' sounds, from tasteful country rock, complete with full harmonies, to hard rocking tunes that highlight the Eagles' extraordinary catalogue that earned the band seven #1 singles, six Grammys, five American Music Awards and six number one albums.
Ambrosia
Wednesday, January 24, 2018
It was 1970 when four young musicians from the South Bay of Los Angeles came together to create a new invigorating style of music. Exploring the possibilities of progressive, classical and world influences, yet rooted with the soul of the blues and R&B, they created a new sound that was defined and recognized as "Ambrosia." Originally labeled as American's answer to the progressive invasion of such English acts as "Yes" and "King Crimson," the group quickly proved it was all that and more as it's albums painted aural landscapes covering the gamut of musical styles. Today, the band is more alive and compelling than ever, exploring new musical territory and continuing to wow lifelong fans and new coverts alike!
Motown Magic
Wednesday, January 31, 2018
Motown Magic is a solid-gold production that guarantees to have everyone out of their seats and dancing in the aisles! This show jives through the decades of Motown chart topping hit artists and groups like The Temptations, Four Tops, Stevie Wonder, The Supremes, Marvin Gay and more. There's little doubt the memories will help re-create the "sunshine of your life" and "have a hold one you" before the night is out. Even if your "papa WAS a rolling stone," there's not a single reason to "shop around" – cause this show is one you DON'T want to miss!
December '63
Wednesday, February 7, 2018
The music of Frankie Valli and The Four Seasons comes to life in this re-creation of a Frankie Valli concert experience, showcasing all of your favorite songs including one-of-a-kind classics that have been thrilling audiences for decades along with the band's most popular singles from the musical Jersey Boys. This re-creation of a Frankie Valli and The Four Seasons concert will have you reaching for the high notes as December '63 takes you on musical journey with stops at every phase of this band's astonishing career.
The Buckinghams
Wednesday, February 14, 2018
One of the most beloved and respected Chicago bands ever to explode onto the national scene, The Buckinghams' live concerts pack power into 60s pop rock. Bringing back great memories with chart-topping 60s hits, The Buckinghams also perform popular 70s favorites in their sets, electrifying audiences with high-energy fun. Since 1985, original Buckinghams Carl Giammarese and Nick Fortuna and their band have continued to deliver fast-paced, solid shows that get crowds up on their feet to enjoy. Their #1 song, "Kind of a Drag" is a stand-out favorite that first made them famous followed by seven more national chart hits, 15 singles and eight acclaimed albums.
When Billboard named them "The Most Listened to Band in America," The Buckinghams became favorites on The Ed Sullivan Show, The Smothers Brothers' Comedy Hour, American Bandstand, and more.
Mirage – Visions of Fleetwood Mac
Wednesday, February 21, 2018
MIRAGE – Visions of Fleetwood Mac celebrates the classic lineup of this legendary superstar band. Based in Los Angeles, the members of "Mirage" capture the look and sound of Fleetwood Mac live in concert. The band is a spin-off of the highly successful band, "Bella Donna – A Tribute to Stevie Nicks," which was awarded the highest honor of being praised by the real Ms. Nicks after she heard a live performance by singer Michelle Tyler and the band. "Bella Donna" also appeared on AXS TV after being crowned one of the "World's Greatest Tribute Bands" and has played to SRO crowds in Sun City AZ previously. "Mirage" focuses squarely on Fleetwood Mac and their greatest hits in this five piece authentic concert recreation. When Mirage/Bella Donna is on the stage, Stevie Nicks is IN the House!
The Echoes of the Platters
Wednesday, February 28, 2018
Based out of Las Vegas, Nevada and led by Ty Sweet – who for many years was the lead singer of the Buck Ram Platters, as well as additional Platters groups who toured throughout the world many times. The Platters were one of the first African American groups accepted as a major chart group and were, for a period of time, the most successful vocal group in the world back in the day. The Echoes of the Platters have performed previously in Sun City AZ at the Sun Bowl in 2016. We would like to welcome them back to perform now at the Sundial Auditorium…at the overwhelming request of Sun City AZ residents!
Neon Circus – Brooks & Dunn Tribute
Wednesday, March 7, 2018
When Brooks & Dunn, the undisputed kings of the '90s line dancing craze, decided to hang up their hats in 2010 after a successful 20-year career on the road it left a big void in the hearts of their fans. In 2011, the concept arose to form a tribute act that would rival the duo's touring road show and live sound, and Neon Circus was born. Neon Circus has successfully continued the legacy of these country music icons with the help of RK Ford (Ronnie Dunn) and Tim Johnson (Kix Brooks) as they perform at various venues touring the US accurately recreating Brooks & Dunn's exciting live show down to the last detail. To the delight of millions of country music lovers, Neon Circus continues to honky-tonk up the stage every night, and so, the cowboy legends live on.
Gary Puckett & The Union Gap
Wednesday, March 14, 2018
Gary Puckett and the Union Gap was one of the most successful musical groups of the sixties. Gary's unmistakable signature voice garnered six consecutive gold records and top ten Billboard hits including "Young Girl," "Lady Willpower," "Over You" and "This Girl is a Woman Now." Gary also performed on more than thirty network television shows and prime time specials during his career. The Union Gap disbanded in the seventies. In 1974, "Young Girl" was reissued in England where it received a silver record award for attaining a top five position on the pop charts, several years after its initial release.
Gary continues to tour nationally & internationally and has released several albums, including "GARY PUCKETT – LIVE," and his first ever Christmas CD, entitled "At Christmas." Sun City AZ is sure to enjoy an evening of wonderful music, memories and masterful entertainment as Gary Puckett takes to the Sundial Auditorium stage.
Harmony – Three Dog Night Tribute
Wednesday, March 21, 2018
Coming from Corona del Mar, California, Harmony performed to a packed house at the Sun Bowl back in the spring of 2016 and we're bringing them back to Sun City AZ's Sundial Auditorium as requested. You will not be disappointed by this great tribute show, featuring such tunes as "Joy to the World," "Mama Told Me Not to Come," 'Shamballa," "Eli's Coming," and "Just An Old Fashioned Love Song" to name just a few. With 21 Billboard Top 40 hits between 1969 and 1975, they introduced mainstream audiences to Paul Williams, Harry Nilsson, Randy Newman, Leo Sayer, Laura Nyro and others.
Carla Cooke – Daughter of the Legendary Sam Cooke
Wednesday, March 28, 2018
The legendary Motown recording artist Sam Cooke is all about music, religion, romance, and history. His youngest daughter, Carla, crafted her sound in the church similar to her dad. She never sought to use her father's name but chose rather to build her own reputation and has become her own person, with roots connected through her father's music. Carla's style is diverse in Gospel, Christian, R&B, Soul, Pop and the contemporary sound that embraces today's culture.
With a strong vocal range and warm personality, her stage presence commands the environment wherever she performs. Her CD entitled, "A Time to Remember," covers renditions of her father's hits including "A Change is Gonna Come," "Summertime" and "Lost and Looking" as well as several compositions she has written. Carla proves that the apple doesn't fall far from the tree as she gives the listener the raw talent, emotion, beauty and charisma that has her carrying the Cooke family torch musically into the new millennium.