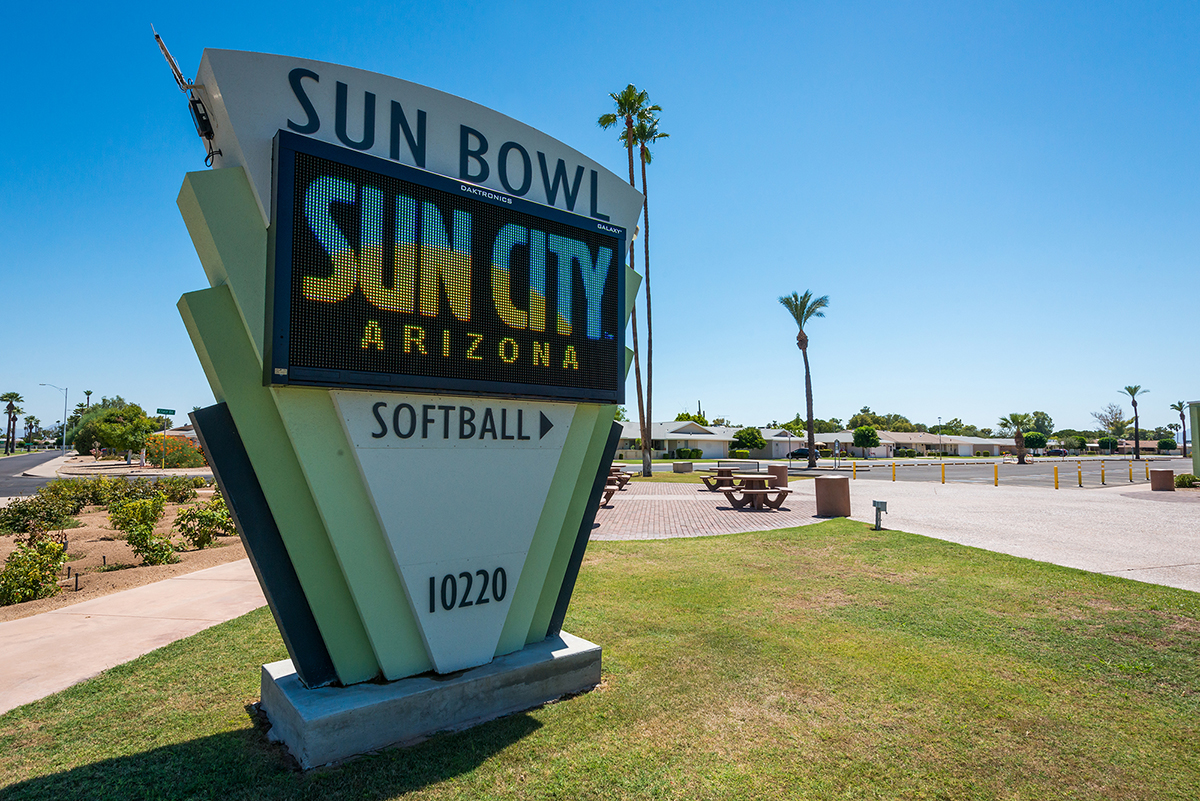 Sundial Auditorium and the Sun Bowl are the venues for a variety of concerts throughout the year. From local favorites to national treasures, RCSC Cardholders and their escorted guests are sure to be entertained all year round! RCSC is proud to present these Sun City Attractions that you've just got to see to believe!
Be prepared to show your RCSC Member or Privilege Card with photo (no key fobs accepted) to gain access to all free RCSC Events & Concerts.
Sunday Nights at The Sun Bowl
Sun Bowl Shows are free to RCSC Cardholders and their escorted guests. Please be prepared to show your RCSC Member or Privilege Card (with photo) in order to obtain admittance; no key fobs accepted. Bring your own lawn chair or blanket to the Sun Bowl Concerts. Please note that early reservation of seating space is not allowed and that chairs nearest the stage are reserved for those individuals arriving by buses only. Smoking is only permitted in the parking lot around the Sun Bowl.
In the event of inclement weather, shows are moved to Sundial Auditorium, 103rd Avenue and Boswell Boulevard. For a recorded message regarding venue change, call 623-972-6014.
** Gourmet food vendors arrive 1-1/2 hours prior to all Sun Bowl shows! **
---
We'll be ready to see you in September with more great music when the Fall 2018 Sun Bowl season kicks off! Sun Bowl Shows are FREE for RCSC Cardholders and their escorted guests and your cooperation by presenting your RCSC Member or Privilege Card (with photo) for admittance at these shows is greatly appreciated. We look forward to seeing you at the Sun Bowl for more great entertainment!
Johnny K & Kompany
Sunday, September 23, 2018 @ 7pm
Let's kick off the Sun Bowl season with an encore performance from Johnny K & Kompany, who will take the audience back to a simpler time with many of your favorite classic oldies!
Strait Country
Sunday, September 30, 2018 @ 7pm
Kevin Sterner and the Strait Country Band will keep the Sun Bowl audience on their feet as this amazing 6-piece band showcases hit after hit from George's vast collection of number one and top ten hits, along with some of his lesser known gems.
Thaddeus Rose Band
Sunday, October 7, 2018 @ 6:30pm
Let's welcome TRB as they perform their debut concert here in Sun City AZ that promises the best dance rock hits and iconic cover tunes presented by some of the greatest musicians of our time.
Faded Jeans
Sunday, October 14, 2018 @ 6:30pm
Arizona's Party Band comes back to the Sun Bowl with their unique mix of classic rock, pop, country, 70s funk, rockabilly and blues. Shout out your favorite tune and they just might play it!
Furious George
Sunday, October 21, 2018 @ 6:30pm
Let's give a big hand to Furious George when this outstanding five-piece cover band of talented and accomplished musicians creates a sure-fire electrifying performance that is guaranteed to include your favorite songs that will keep everyone on their feet.
The 8-Tracks
Sunday, October 28, 2018 @ 6:30pm
Welcome back The 8-Tracks to Sun City AZ as we take a journey back in time, singing and swinging to the songs from the 50s and 60s, songs that you love and that are so much a part of your lives.
'56 Rock N Roll
Sunday, November 4, 2018 @ 6pm
Return to the year that featured Coupe de Villes & drive-in movies, Ed Sullivan and Milton Berle in your living room, Mickey Mantle leading the Yankees to the pennant and Grace Kelly leaving Hollywood to become a Princess, accompanied by great tunes played by rock legends such as Chuck Berry, Jerry Lee Lewis, Johnny Cash, Roy Orbison, Carl Perkins and Elvis (just to name a few). That is '56 and you won't want to miss it!
Tribute to Our Veterans
Sunday, November 11, 2018 @ 6pm
Pride and patriotism will take center stage at the Sun Bowl when the Ahwatukee Foothills Concert Band and the Ahwatukee Children's Theatre put on a special performance specifically designed to honor those who have served as we honor veterans. Please accept our heartfelt thanks!
Sundial Concerts
Sundial Shows are normally ticketed shows held in the Sundial Auditorium. Tickets can be purchased at the Lakeview Club Office and all ticketed Sundial shows are open to both RCSC Cardholders & non-cardholders.  RCSC is pleased to announce that we will continue to have reserved seating for all ticketed Sundial concerts in 2018! With video projection screens, you're guarantee that every seat in the house is a great seat. Tickets are also available at the Sundial Box Office one hour prior to each show.
Doors open at 6:00pm and shows begin at 7:00pm.  Please arrive with adequate time to be seated prior to show time. The Lakeview Clubs Office also takes phone reservations for ticketed shows with credit card only (Visa, MasterCard and Discover) by calling 623-561-4660. The Clubs Office is open Monday-Friday from 8:30 am-4:00 pm. All free shows in the Sundial Auditorium will continue to be general admission and are intended for RCSC Cardholders and their escorted guests only!
PLEASE NOTE: FM Transmission is now available at 99.1 FM for ALL concerts! Please remember to bring your own device & headphones so as not to disturb others attending.
Summer 2018 Sundial Shows
Free for RCSC Cardholders & their escorted guests only!
You must show your RCSC Member or Privilege Card (with photo) with photo for entry; no key fobs accepted.
General admission seating; Doors open at 6pm
Americana
Wednesday, June 13, 2018 @ 7pm
Americana features timeless songs from North American singers and songwriters like Simon & Garfunkel, Mamas & Papas, Gordon Lightfoot, Anne Murray, James Taylor, The Carpenters, Jim Croce, Linda Ronstadt, Crosby, Stills & Nash and many more. Celebrate an era of lasting popular classics with Americana.
Main Event Band
Wednesday, July 25, 2018 @ 7pm
Get ready for an encore performance as The Main Event Band brings their jazzy rockin' sound for a cool evening of breezy entertainment on a hot night!
---
Winter/Spring Concerts at Sundial – All seats reserved!
Experience a wonderful evening of great entertainment shared with good friends at an unbelievable price!
Season Tickets for the 2019 Winter/Spring Sundial Concert Series will be available for purchase by RCSC Cardholders only beginning on November 1, 2018 (through November 30 only). Tickets for individual shows will be available for purchase by RCSC Cardholders only  beginning on December 1, 2018; non-RCSC cardholders may purchase tickets beginning January 2, 2019 (depending upon availability).
All Sundial shows are at 7:00pm; doors open at 6:00pm. Please arrive with adequate time to be seated!
Gourmet food vendors will no longer accompany Sundial shows; please feel free to bring your own beverages and/or snacks if you prefer. New video screens in the Sundial Auditorium guarantee that every seat in the house is now a great seat!
 ** NOTE: All ticket sales are final; no refunds. Season tickets are transferrable should you be unable to attend every show.
We hope to have the 2019 Sundial Concert schedule available soon!
---
Lounging on the Lawn at Lakeview
New in 2018, "Lounging on the Lawn" plans to offer alternative musical selections in a unique & relaxing atmosphere near the lagoon & waterfall at Lakeview Center. Due to the limited seating area, RCSC Cardholders must present their photo ID cards to obtain free tickets two weeks prior to the event at the Lakeview Clubs & Activities Office. Seating in the pavillions will be restricted to those who are physically challenged. Cardholders will need to bring their own lawn chairs or blanket. You are also welcome to bring your own snacks & beverages.
There are no shows are currently scheduled for the Lounging series! Check back this fall.